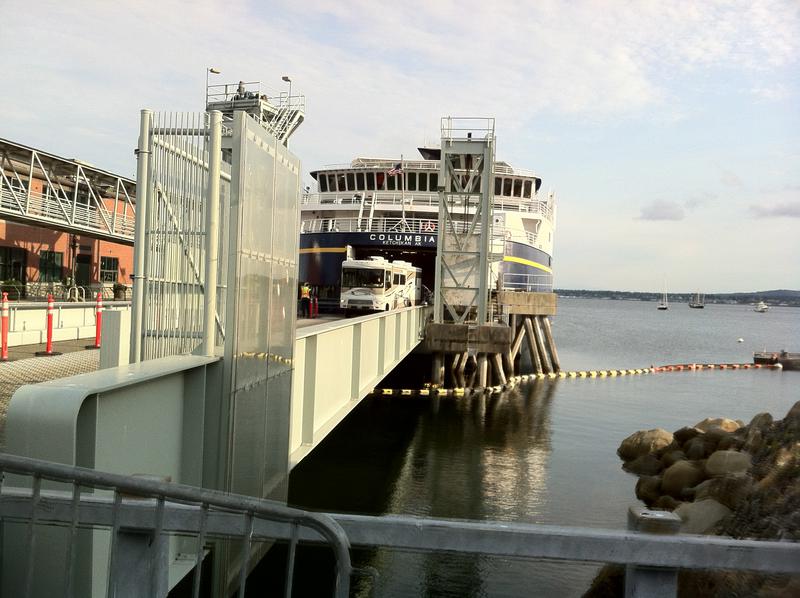 Day 21 and our (almost) iron butt ride awaits. Lets do this thing!
Daily report: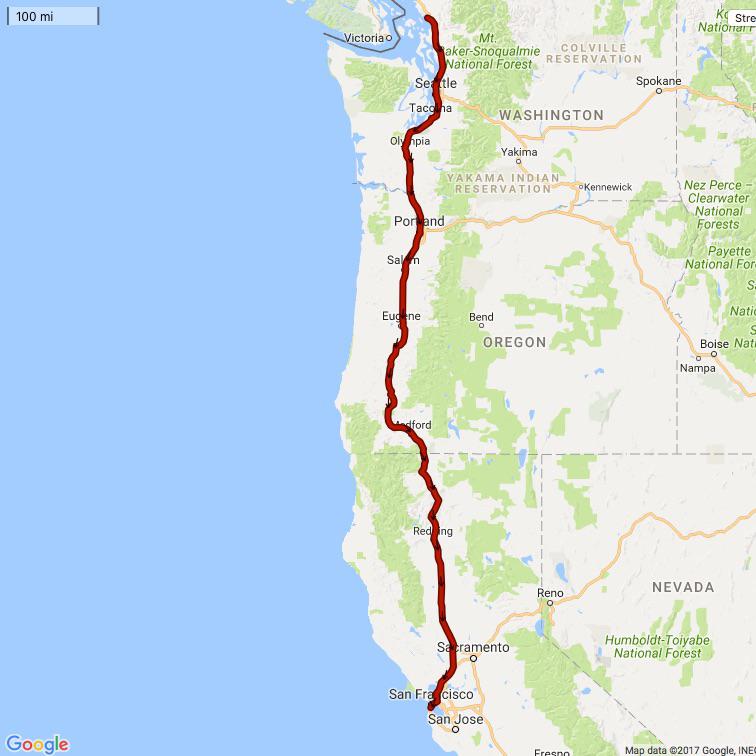 Water distance traveled: ~150 miles
Land distance traveled: 944.7 miles
Total distance traveled: ~1094.7 miles
We arrived in Bellingham around 08:00 PST. During the hour before we packed up our gear and got it ready to be brought down to the car deck. (Turned out that Gregg had everything packed before I was even awake. Kudos to him!)
Interestingly the way they dock the boat when it reaches the dock is stern in. As you can tell from the above picture everyone disembarked out the stern entrance. There was only one problem, we were in the front of the line.
Once we were tied up I wasted no time getting down to the car deck. Knowing how long it takes to put gear on and pack up the bikes it was going to be a while before we could even move the bikes. We removed the straps from their purchase points and I ran down to the paint locker to get our flammable liquids. Once everything was in order I fired up the bike for the first time in 4 days. (That's a good sign!)
I rode the bike off the boat and to the side while we tidied up our gear. Gregg and I worked out a game plan. It sounded more and more like we were going to go the full 900+ miles to San Francisco.
As soon as we were ready, we said goodbye to Steve and got rolling down the road. We stopped at the Arco to top up and get air. It turns out though that air is not free in Washington. Frustrated, we headed out of the Arco and up to the Shell station where they did have "free" air. Though not required they did have a donation box for the local youth symphony orchestra so I dropped a dollar in the box. (Used to be in one myself.) I filled up my front tire as Gregg checked his.
While we were there we talked to the guys in the shop. One of the guys proclaimed looking at my side boxes, "Are those fish tanks!?" I proceeded to open one to show that they were just luggage. The same guy then informed us about how the state police was giving out tickets for even a few miles per hour over the speed limit. We made a mental note to be careful as we started gearing back up. We also managed to get some more water for our water jugs out of their sink. (People are just so nice up in the North West.)
Finally, we were ready to go. It was about 09:00 PST by the time we got rolling. It was going to be a demanding day.
We rode down I5 staying with the traffic, never going much faster than anyone else. The last thing we needed were tickets. At around 12:00 we made our first stop in Toledo at the Chevron off the highway. We fueled up and also grabbed some, you guessed it, Subway. We ate half of our foot longs and got back on the super slab.
Our goal was at least to make it past 200 miles on each fill up. It would make our stops more efficient rather than stopping every 100 miles.
Tip: Going for the long haul? Every stop you make eats up time on the road and also precious daylight. Always have everything you want to do planned out before stopping.
Our next stop was in Cottage Grove Oregon. We stopped off the highway around 15:51 at the Chevron. Ate the other half of our sandwiches again got back on the road. Thanks to me we ended up riding around in a big circle trying to get back to the highway. I'm surprised Gregg didn't throw something at me as we attempted to navigate back to the onramp. (Thanks buddy.)
Tip: Whenever passing though Oregon remember that it is illegal to pump your own gas (sorta). They have attendants that will come around and pump gas for cars. For motorcycles they will take your credit card and hand you the pump; the rest is up to you.
As we rode though Oregon, we got to enjoy what the country looked like. It seems like the forest fires were under control and visibility was great. (unlike our trip up!) After hours of riding we finally made it to the California border. We did a celebratory turn signal salute (alternating between left and right blinkers fast) and rode on into California.
We stopped for the third time in Yreka CA for more gas and a bathroom break. It was about 19:00 by the time we got off the bikes. We were losing daylight and it wasn't going to be bright much longer. (Joy..) We knew though that if we could get out of the twisty portions of I5 in upper California we would be set. Why? The reason is that I5, once you leave the mount Shasta area, gets straight and flat. Got to love the central valley sometimes.
We made our final stop together in Anderson CA around 20:41. We had only gone 113 miles but it was long enough so we could get home without stopping anymore. We also had mild hope there was some good food nearby but our hopes were dashed. We had no such luck. We filled up, ate a few snacks and hit the tarmac.
As we got closer I started counting down the minutes and miles until we were home. We finally entered the bay area around 23:00. We were thrilled to be back and also overwhelmed by the amount of traffic that was on the road. There is a night and day difference between the roads in Alaska and the roads in California.
As we inched closer it felt like San Francisco was in our grasp. When you get that feeling you know that something will go wrong. We were about 30 miles away from the bridge when our fuel lights came on. We were around 187 miles in and started worrying if we could make it. I glanced down at those gradually ticking numbers on my dash hoping they would magically reverse. Worst case was that we would have to stop in the middle of the bay bridge to fuel up. No biggie...
There was no stopping us though. Pressing on we made it across the bridge with no problem and found ourselves, for the first time in three weeks, parting ways. We beeped at each other as Gregg took the exit towards his place.
Soon enough I found myself taking my exit too. I stopped to fill up one last time around 00:05 the next day. We had traveled about 217 miles that last stretch using about 4.3 gallons. We still had more range! (Though I wouldn't want to push it any further especially at the higher speeds.)
After fueling, devoid of fatigue, I hastily put on my helmet and gloves. Fifteen hours of riding all for this moment: It was time to go home.
The Gear
What can't a good survivalist go without? Why a can opener of course.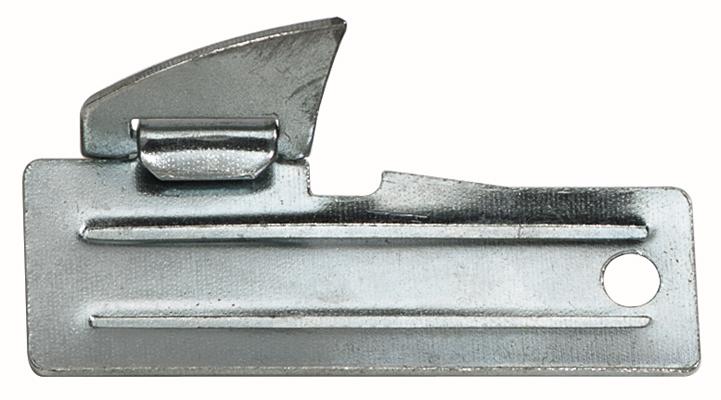 GI can openers are the most simplistic and easy to use devices around. We must have used this can opener every other day and it cut our cans without a problem. I ended up purchasing an assortment at the military surplus store in Mountain View California. I think I spent a total of $1.5 for 2 large and 2 small can openers. (Cheap!) The only thing I would do for the future (unless you stick it in your wallet like I do) is to put a string on it as a lanyard. They're sometimes tricky to find especially when accompanied by other small things.