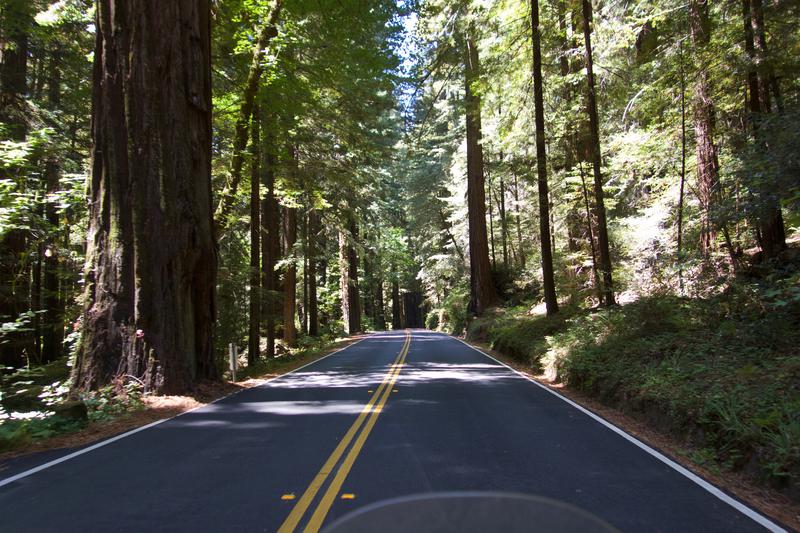 I head north after briefly enjoying Westport. The next destination? The Avenue of the Giants and Eureka. I had already been to this area around 3.5-4 years ago when I rode with a buddy from San Francisco. We rode into Redding via I5, over to the Eureka area via Route 36 did the Lost Coast route and headed back via 101. This time I wanted to take it slow and savor it more. One of the coolest things that happen while traveling is the act of giving. There have been moments where others have given freely to me and moments where I have done the same. It always feels really good when that happens because you know you made that person's day a little bit better.
For instance, Sean a fellow BMW owner and Sunnyvale officer/firefighter had given me his extra gallon of water. I've used this water jug ever since he did that and it has become instrumental to my survival on the road.
There are also lots of opportunities to share camp spots with people, especially during the busy weekends. In the reverse, it's also a way to get to know new people by asking if you can share. As Daniel Pink says in To Sell Is Human we're all in the business of persuading someone to do something. Excercising those muscles is super important because convincing people to do anything for you is a big part of life!
Vlog of the day:
What I learned:
According to the California Department of Wildlife, you shouldn't eat any shellfish or crustaceans in or around Clam Beach and associated creeks. They indicated that the wildlife accumulates domoic acid which is toxic when in high levels. It is naturally occurring and happens spuriously every few years and is caused by microscopic algae.
More info is here: https://www.wildlife.ca.gov/fishing/ocean/health-advisories
Resources:
Avenue of the Giants - definitely worth checking out. Ride or drive through and you won't regret it!
Clam Beach - useful if you're in a bind but not recommended.
Lost Coast Brewery Cafe - definitely worth a stop by if you're a beer person. I decided to skip it this trip.
Old Town Coffee & Chocolates - I hung out here to do some computer work and update the site. Nice little spot with lots of seating.
To Sell Is Human - I recently finished this book. Some principles come to mind that are useful to remember. If you're potentially doing any type of sales or selling you should check it out.