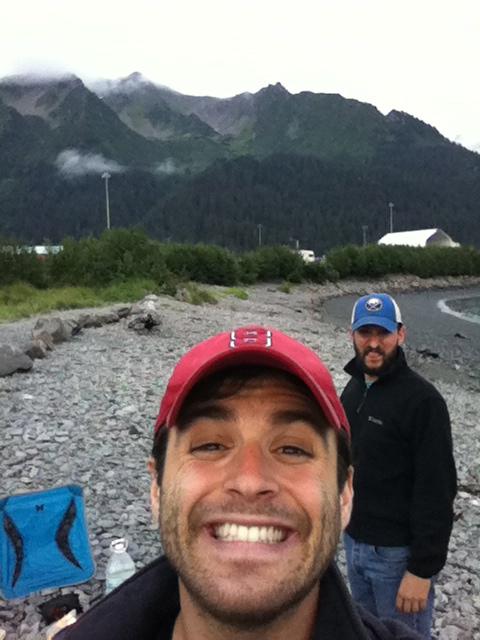 Day 11 was a bit of a rest day. After sleeping about 12 hours we did decide to keep trucking. There was much to do and not enough time to do it all. More after the break..
Daily report: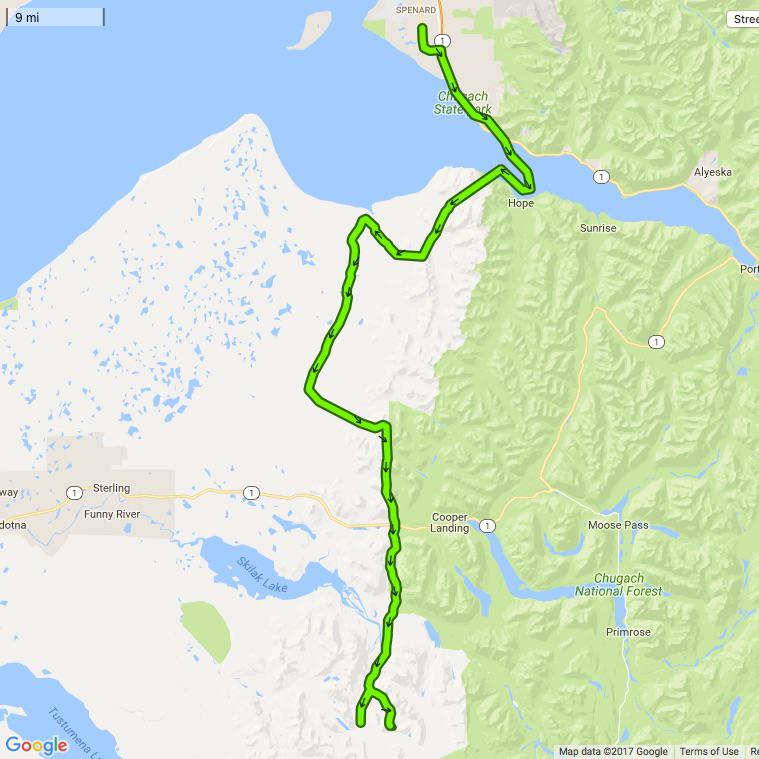 Total distance traveled: ~145 miles
The Route:
We woke up with rather large todo list:
Recharge Macbook
Upload photos
Change fog light
Laundry
Clean mess kit
Air out tent
Glue turn signal
Books for boat
We had our hands full for the morning. The main concern was getting the laundry done. Gregg found a laundry mat and brought everything over while I spent time fixing my turn signal, cleaning the mess kit and researching where to go next. He returned and I headed out to go take the clothes out of the drier. Gregg managed to tackle his always malfunctioning fog lights while he was at the laundry mat. On my way over I noticed another manual car wash. I made a mental note and headed over to the laundry mat. Lucky for me the machine was just finished when I walked in the door. No problems here.
After heading back and things seemed to be in order we headed out for breakfast. Where to? Why the Snow City Cafe of course. The restaurant was back downtown but they served all day breakfast. Booyah. We find some parking spots and pay the meters. But for some reason all of the other meters with cars parked next to them were not paid for. Odd. We walked over to the restaurant and waited for a few minutes. This place was packed and busy. "Food must be good!"
As soon as we got a table we ordered some food. I ended up getting the Heart Attack on a Plate.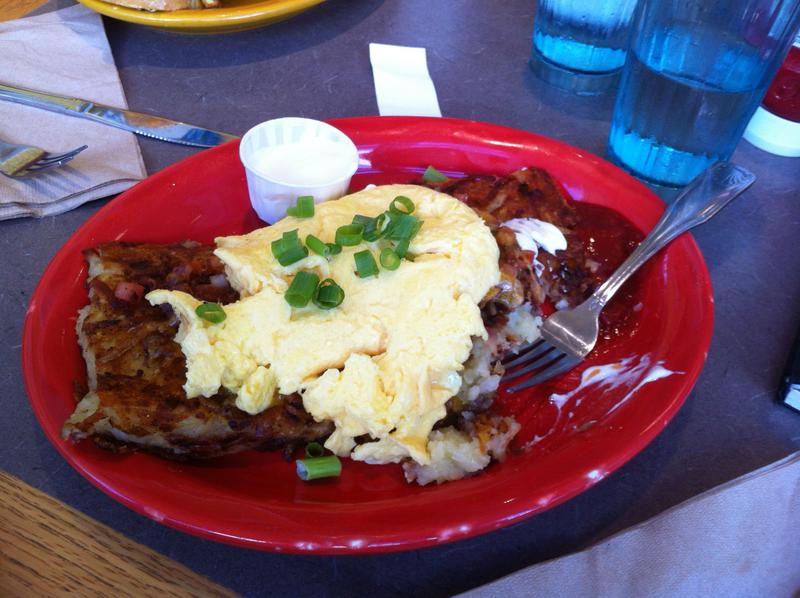 The description from their online menu is as follows:
Hash browns, bacon crumbles, onions, mushrooms, tomatoes, cheddar cheese, sour cream (veggie bypass has no bacon) Half order 7.95 | Full order 9.95 | With two eggs, add 3.00
Mmmm nom. Nothing like a healthy plate of Heart Attack.
From what I remember Gregg got some french toast, eggs and coffee.
Once we finished breakfast, we hopped on the bikes and headed to the car wash. The bikes needed a good washing for the third time. Got to keep the bikes clean!
We then headed over to [Title Wave Books](http://www.yelp.com/biz/title-wave-books-anchorage# query:used%20books) where we both bought a couple books to entertain ourselves on the boat. I managed to find "The Brief Wondrous Life of Oscar Wao" by Junot Diaz and "Man's Search for Meaning" by Viktor Frankl. (both are good books and are highly recommended)
Finally, after all our errands we headed out onto the Seward Highway taking it all the way down.
Our first stop involved wildlife! We slowly pulled up on lots of people off to the side of the road taking pictures. Turned out that there were beluga whales romping around in the turnagain arm. I grabbed my phone and Gregg grabbed his camera and we shot a bunch of pictures.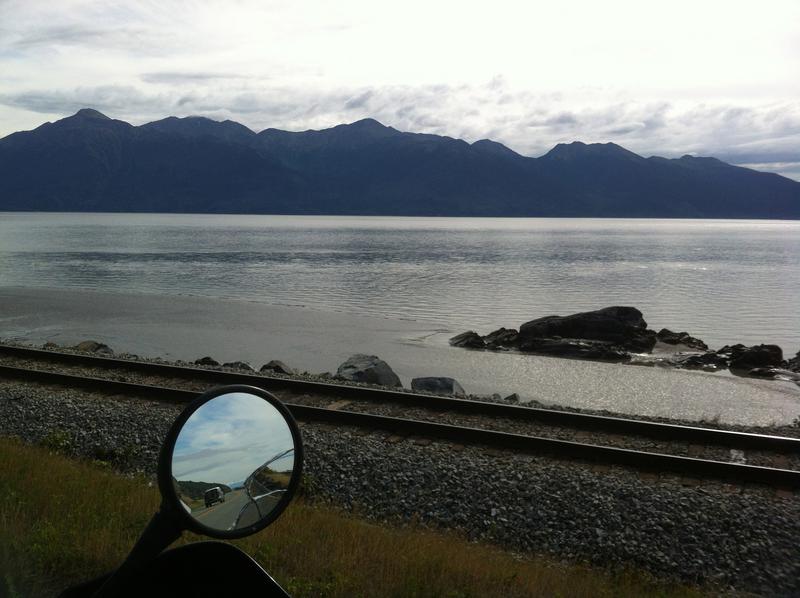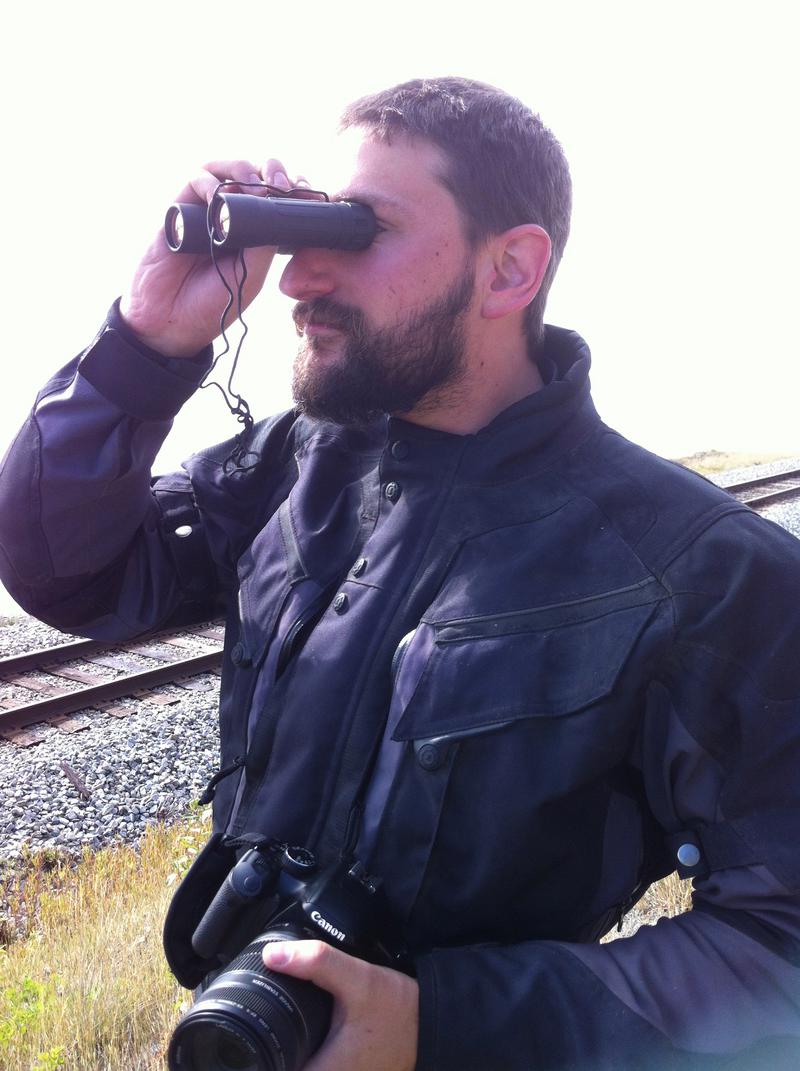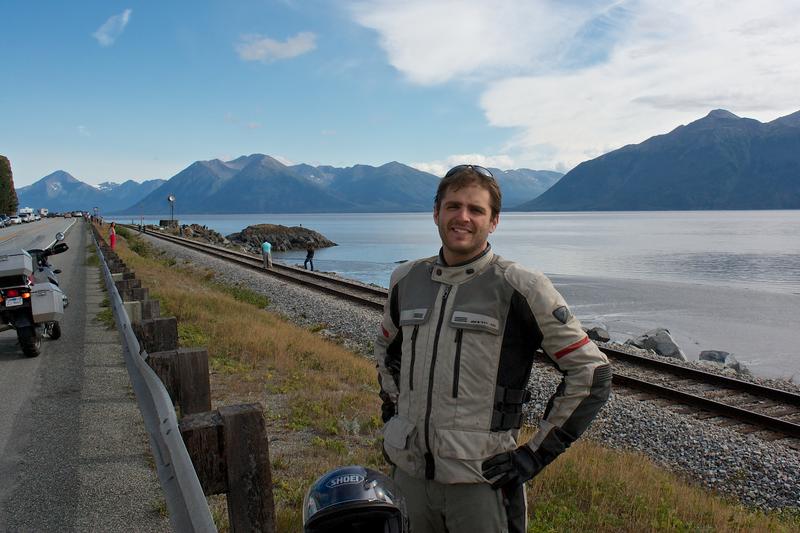 Unfortunately the whales were far enough away to not get great pictures. Sneaky little aquatic mammals.
We managed to stop a little farther down the road to appreciate the beautiful views. Gregg got another nice shot.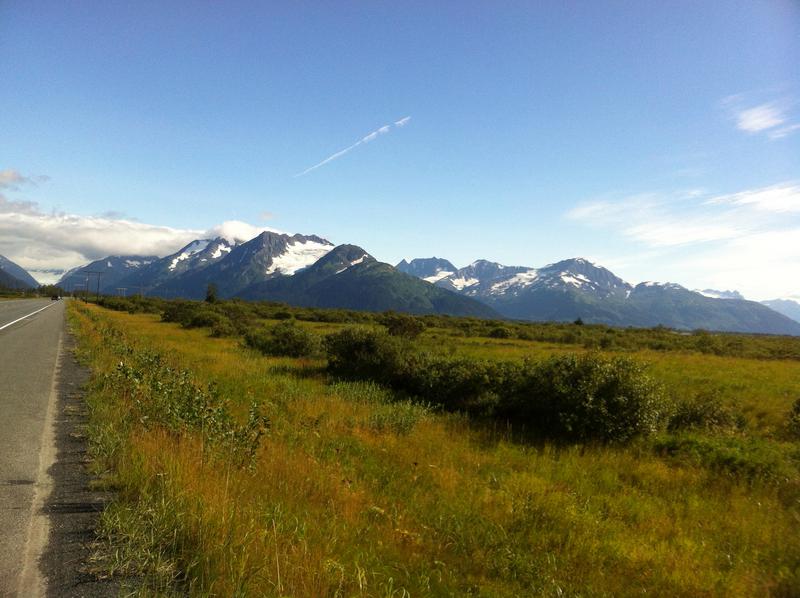 On our second to last stop, I saw a sign for jerky so we hung a left into the parking lot. It had been a dream come true because we had been searching for specialized jerkies the whole trip. (reindeer jerky, venison jerky, etc.) Sadly the guy wasn't at his jerky cart so we resolved to stop on the way back up. Gregg though managed to take some pictures. He has a particular affinity for seaplanes.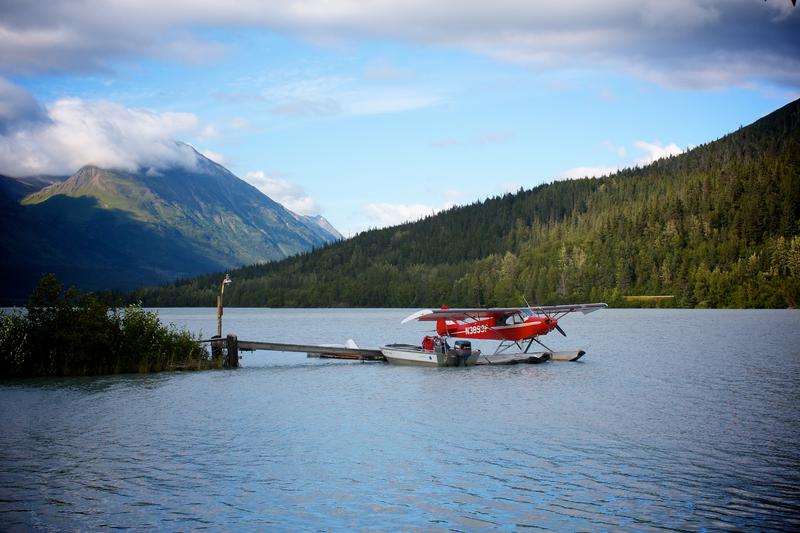 We finally made it into Seward around 19:49. We stopped at the Seward Power Stop! and got gas. Gregg bought some firewood. We then took our bikes next door to the Safeway to get some beer and food. We then took a brief tour of town. Stopped in the downtown Hallmark to get some goodies and post cards. Once we had enough of the Hallmark, we booked it out of there and back the way we came.
The plan was to camp out at the campgrounds somewhere on Nash road. After some confusion on where it was exactly, we finally rode down there and set up camp. The views of the bay and surrounding mountains were great. We set up a fire on the beach and made dinner. What an awesome place.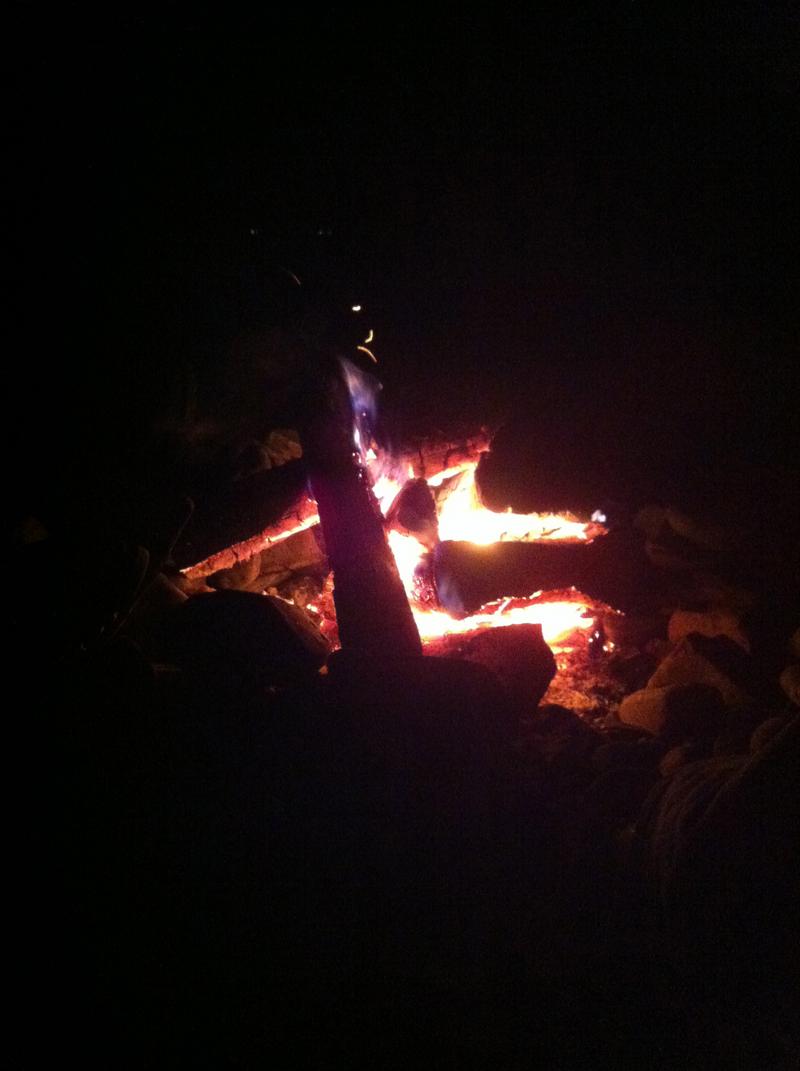 Tip: For some reason in Phil's book it states that this campground is free. (it isn't) It's $10 a night for tent campers. The kiosk is on the right side as you make your way in.
The Gear
Today's choice in gear? Homemade fire tinder!
Starting fires is sometimes rough. It requires much more preparation than you think. One thing that can make it easier is to use cotton balls coated in petroleum jelly. The petroleum acts like wax would in a candle. It prevents full combustion of the cotton and slows it down thus causing the cotton ball to burn longer. I ran a test not to long ago to find that these guys can burn up to 4-5 minutes! To start them you only have to place a lighter in the vicinity or use fire steel. (I've used both -- fire steel takes a bit more skill to get the hang of) I keep my tinder in a watertight container and I usually pack it to the brim. These little guys can squish down quite a bit.
So if you're going camping in the future (or making a bug out bag) try making some of your own tinder. It only takes minutes and it will save your butt in a pinch!