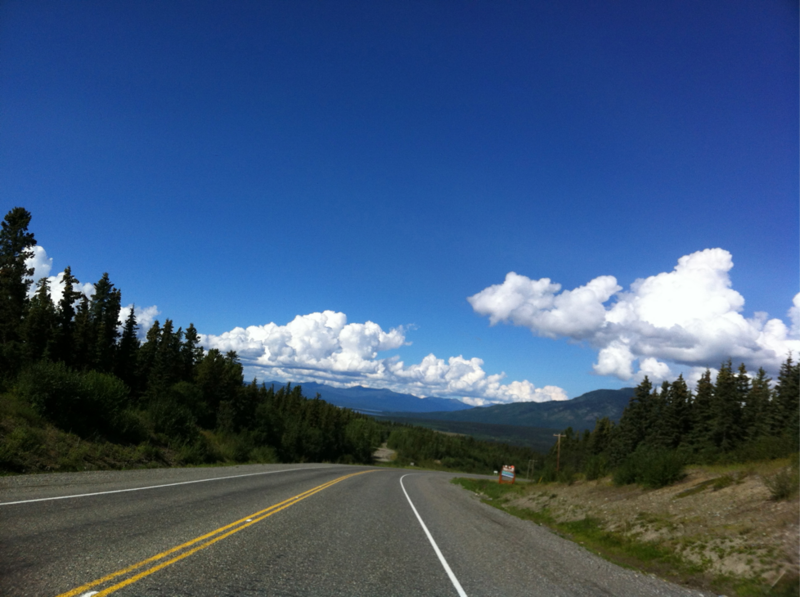 Note 3/13: this is a repost back from August 30, 2013. Enjoy!
Our first night of camping went well. Especially for the fact that the mosquitos were all over us within 2 minutes of arriving. We made friends with one of the locals whom had found Gregg's bike most intriging. (See picture below)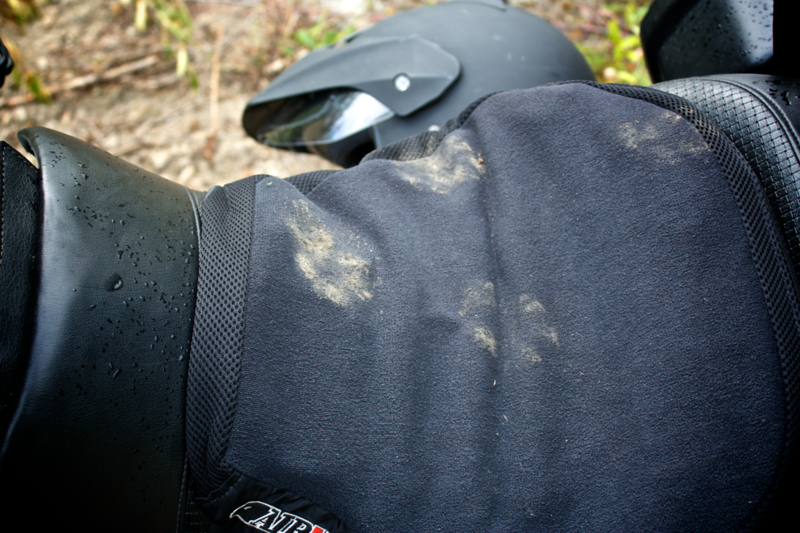 Luckily we had no run in's with bears, yet..
Daily report: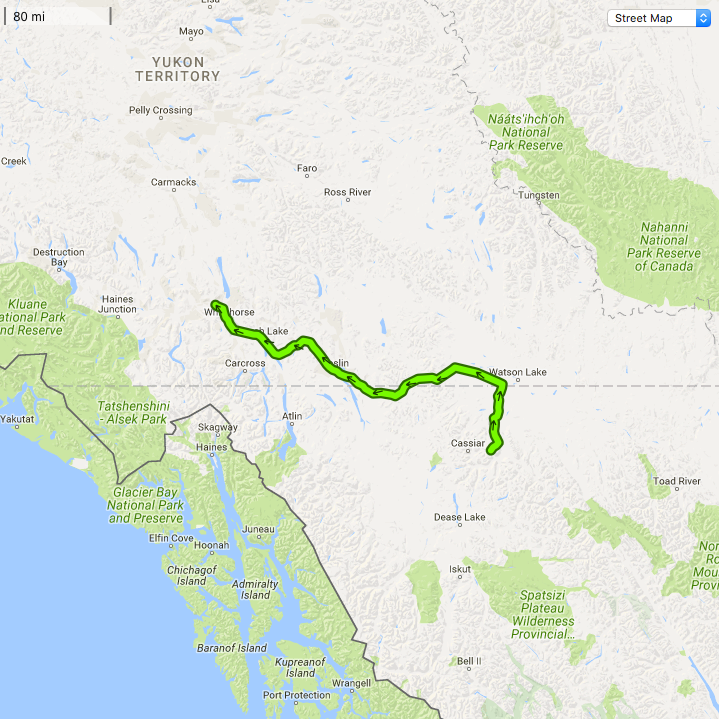 10:00: BC/YT Border - We took it a bit slower than the past 3 days. It was nice to sit back and enjoy the scenery a bit. It managed to sprinkle on us a little as we rode into YT. Nothing to complain about. (We had on our triple digits just in case!) We took some victory pictures, got bit by some mosquitos, took some more pictures and then beat feet out of there. Destination: Whitehorse!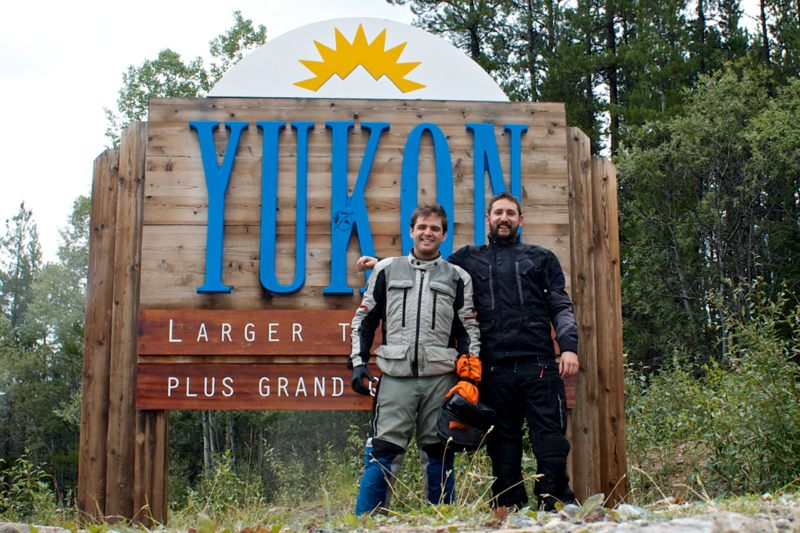 10:30: We hit up the gas station at the corner of 37 and the ALCAN (didn't realize it was there until we got there). If my memory serves me right they did have 91 octane. As we got further along though higher octane fuels became scarce.
13:19: Yukon Motel, Teslin, YT: We stopped for lunch and some 87 octane here. As you can see from the picture below the view was beautiful riding in.
Warning: Motorcyclists beware of the long metal grate bridge. Ride slow and carefully!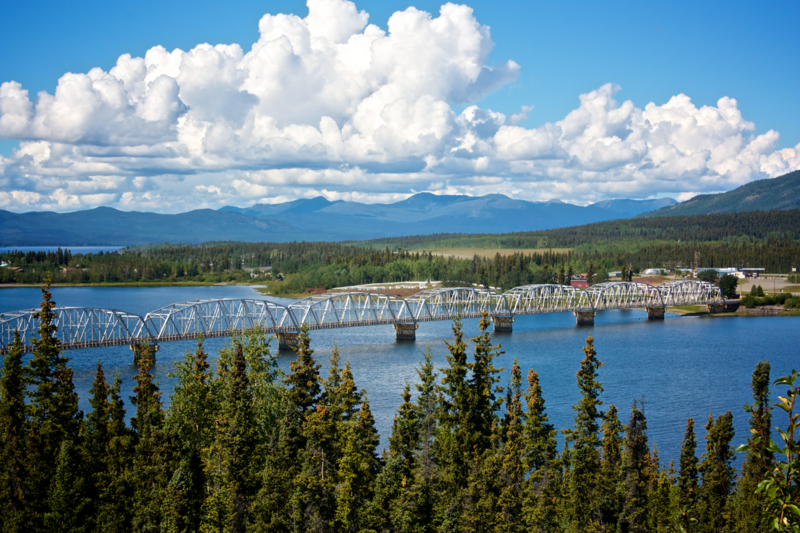 The lunch was pretty good. Gregg was inspired and ordered some poutine. All in all a nice warm meal that our bodies hapily digested. (Nice change from Subway..)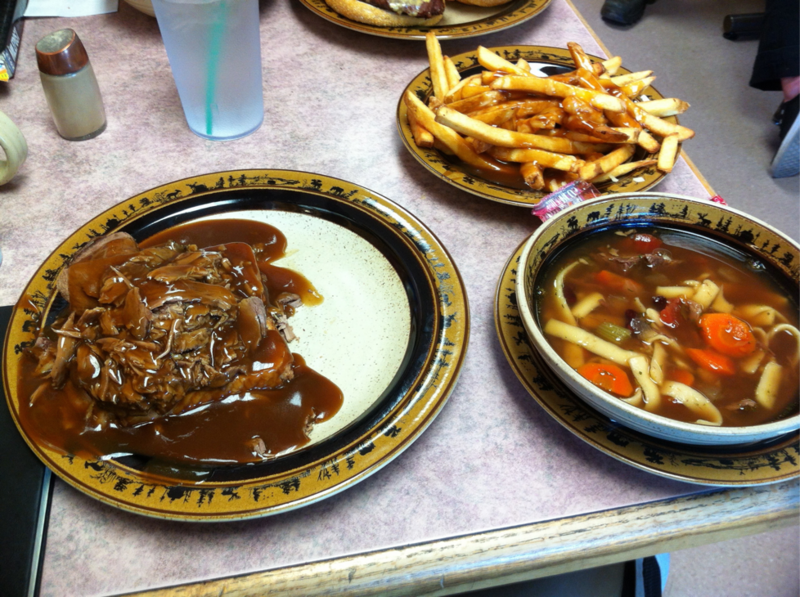 18:17: We decided to take a brief detour and checkout Marsh Lake. We had ridden beside it for a bit and found that they had a swimming area! Once we got closer we were blown away at how clear the water was and how the scenery had our jaws open most of our time here. If you are riding the ALCAN don't pass this place up. It will blow you away.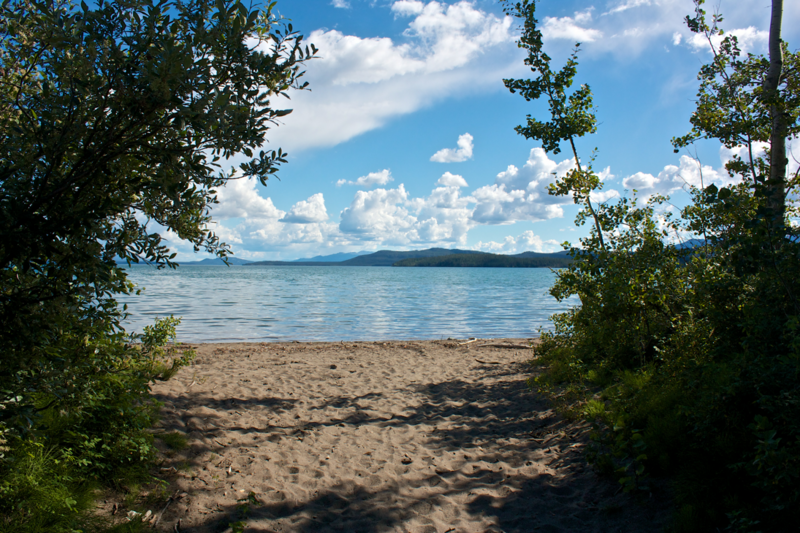 We, of course, jumped in the water. It was a bit cold but completely worth it. Good thing we brought our bathing suits. After we played with the go pro in the water for a bit we packed up and ventured toward Whitehorse.
19:30: Stoped here to get gas. We went to the Real Canadian Superstore also and stocked up on food. Our landing spot for the night? Takhini Hot Springs. Turns out they have a campground area for R/Vs and moto campers such as ourselves. We rode out of Whitehorse and down the street (practically) to the hot springs. The side road, no surprise here, was under construction so we had to ride through a mile or two of soggy gravel.
Once we arrived we found a neat little campground off to the side of their main building. The price was modest and the ammentities were a plus (free wifi). Once we settled at our camp spot we walked over and took a soak for an hour. The "springs" only seemed to be a concrete pool with hot water but I guess you have to believe that there is a hot spring there.
The Gear
What was one of the most important pieces of the gear for the whole trip?
Mosquito Headnets
Gregg and I had both purchased the "Sea to Summit Head Net with Insect Shield" from REI. We were extremely happy to have purchased these little guys since our first night camping. After that first night, our headnets got upgraded and relocated to our tank bags (if that gives you an idea of how important they were). You can get them here.
Pretty handy and at $11.95 (US) it's not going to break the bank. Highly reccomended for anyone thinking about traveling to Alaska (where the mosquitos are rampant and will suck you dry if you give them the chance!).
Tip: Make sure you bring a hat that will prop the net away from your face. Mosquitos can still bite through these things..)