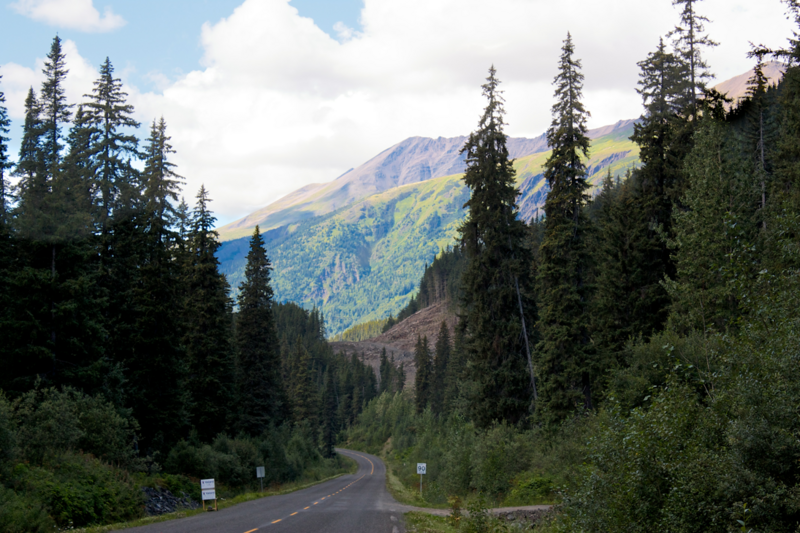 Note: originally posted on 8-29-2013.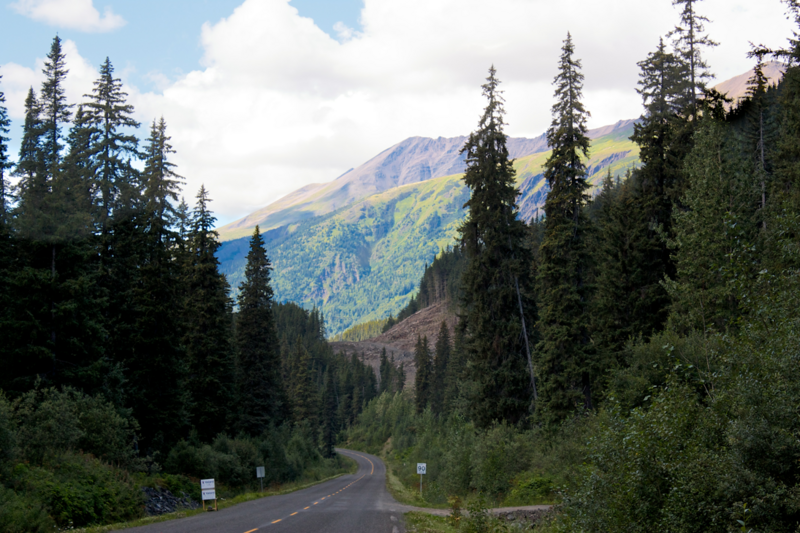 We had our eye on the prize, Yukon territory. It was a bit of a stretch from Vanderhoof but we were naive. So we packed up our stuff and headed back out on the road not knowing what the day would have in store for us...
Daily report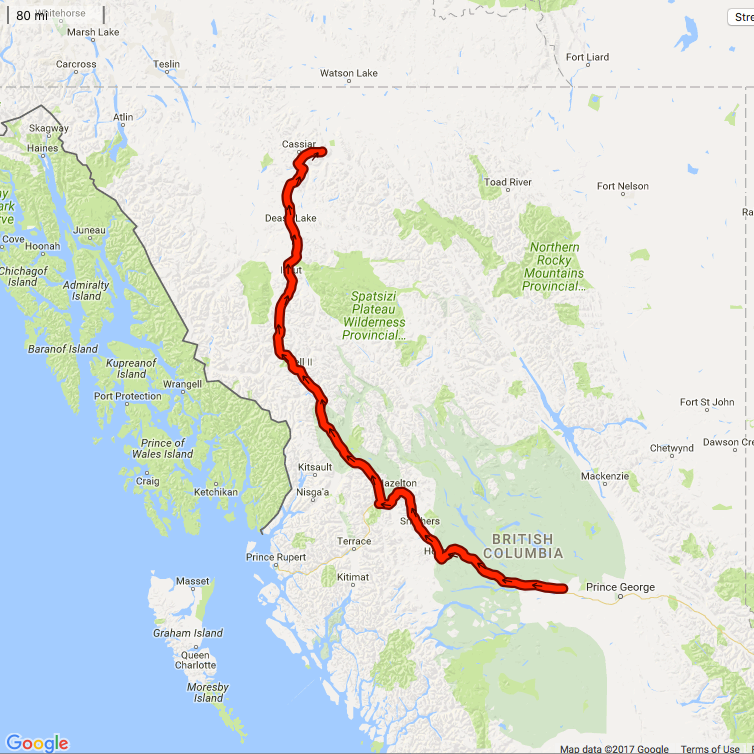 10:20 - Smithers, BC: First stop of the day was in a cool town called Smithers. This is where we initially wanted to stop our second night but we didn't quite make it. (Roads in BC are not quite as straight and fast as I-5 in California!) We grabbed our Subway sandwiches and gas and started rolling down the road. Not too far out of town we saw the first glacier of our trip. See the picture below.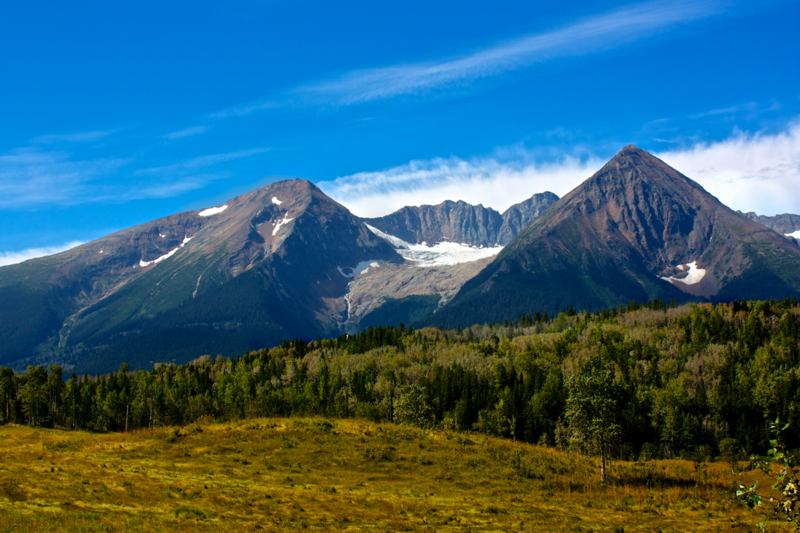 Things started getting exciting for us because we knew this is stuff that Alaska was all about. In my ignorance I didn't quite realize that most glaciers live up in mountains in "bowls" surrounded by high peaks. For some reason I always thought that glaciers floated around in the water (which some do when they calve but not all!).
Things had been slow going since Smithers. The roads were much more twisty and we started encountering more construction. This was also the first point in the trip where we rode large portions of the highway without any other people/cars/rvs in sight. Very opposite to riding in the Bay Area!
This was the first point in the trip where we pushed the fuel consumption of our bikes. At the intersection of route 16 and 37 we realized that we may not have enough gas to make it to the next known gas stop. We pulled out the Milepost and were relieved to see a gas station much closer than we originally thought. Instead of taking a side trip to Prince Rupert we pressed on knowing that if we did run out of gas we had an extra two gallons strapped to my bike. No problems! Gotta love the Murphy repellent.
15:15 - Bell 2 Lodge, Vernon, BC: On arrival my tripometer indicated 235.4 miles(!). This makes sense since the 1150 gas tank fits around 5 gallons but we had never pushd our bikes that far before. Edit: We filled up (for the first time since we left) on 87 octane. We came prepared though with some octane booster to keep our bikes happy. (I guess they were designed optimally to be run on 93 octane. Crazy.)
Warning: If you own a 1150GS I do not reccomend you run that low on fuel. Ever. Reasoning? The 1150GS has a submerged fuel pump. As with most submerged fuel pumps the gas acts as coolant for the pump. Once that coolant is gone you run the risk of burning out the most important motor on your bike. (it's also a PITA to change) Further along in the trip we made it a point to make more gas stops. We were no longer in a rush to get anywhere.
We ate some our sandwiches and pressed on north. As we continued we encountered beauty on every turn. It was hard not to stop everywhere and take pictures. If we did stop for pictures we knew they would turn out awesome like the one below: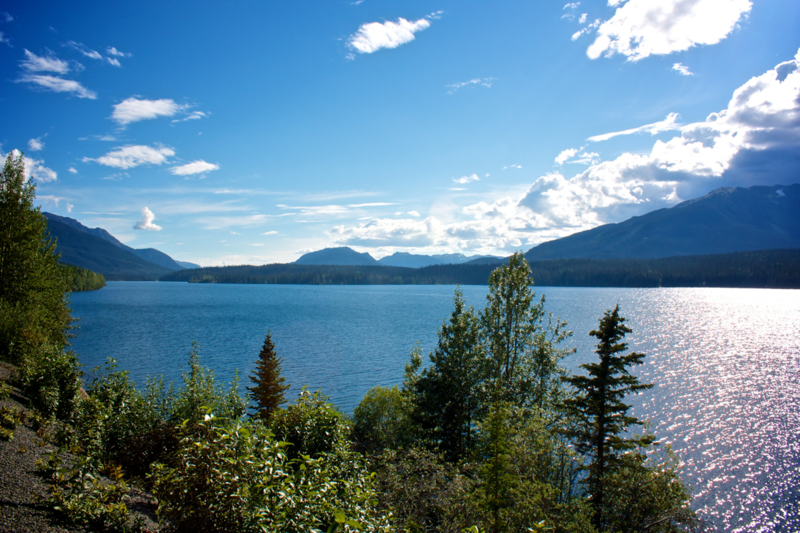 Nothing motivates you like a beautiful lake and rolling pine covered hills!
19:00 - Dease Lake, BC: We stopped in Dease lake to get some gas and then pushed on, our eyes wide with anticipation.
We ran into more construction and gravel roads. Looks like we were starting to see a trend. -_- Luckily our motorcyles were made for this stuff and handled nicely. Here's another picture of the northern portion of Route 37.
As we started riding though the hill though the sun started playing peek a boo and it was dark at some points. We decided it would be best not to ride into moose (or elk, or bears.. ) and call it a night. We were tired and decided that a little alcove off the side of the highway would serve us best for the night.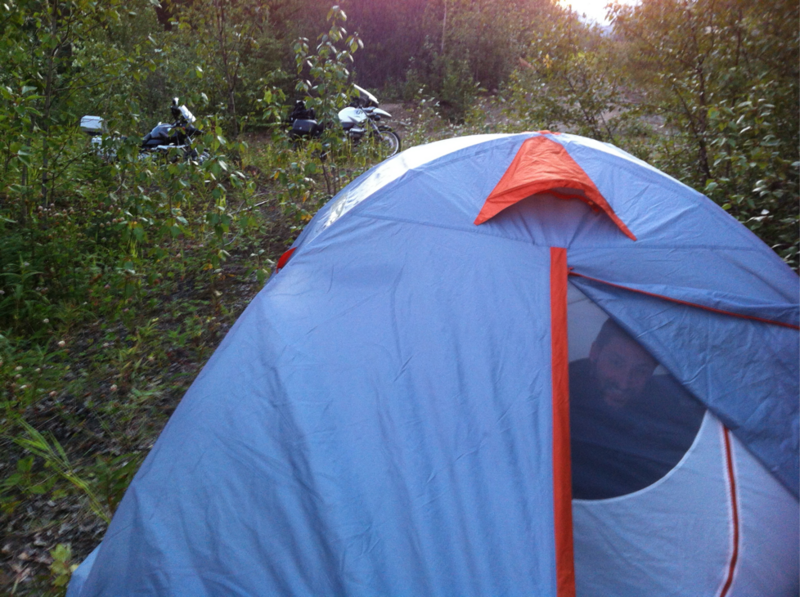 The Gear
Todays gear choice? Why a 30L dry bag of course. Particulary the Baja Dry Sack by SealLine. During the day we normally used this bag to keep our tent and sleeping pads extra dry and clean and during the night we used it to haul our stinky items up in trees. We found it was invaluable and really rugged.
![Sea Line 30L Dry Bag](sea-line-dry-bag.png)
The cons: unfortunately there is one major con about this bag: it has no lash loops.
Saldy we were riding along on our last day toward Haines and I looked back and saw something weird about Gregg's bike. I saw an orange blob hanging off the back of his bike!! We immediately stopped and we realized the bag had wriggled free from his Rok straps and had been dangling by the loop created by the snap buckle right behind the rear wheel. Needless to say crisis averted. Alas, the pavement had worn though the bottom of the bag and also the tent's compression sack. Bummer.
The Sea Line bag will most likely get a proper burial and be replaced a Sea to Summit bag which has lash loops. No more taking any chances.
Note 3/9: the Sea Line bag did find its burial but I ended up just buying another one. It worked quite well on my west coast tour.
Tip: Always triple check your and your buddies bike before setting out for a ride. One loose strap or dry bag will ruin your day. Everyone goes home when the ride's over.