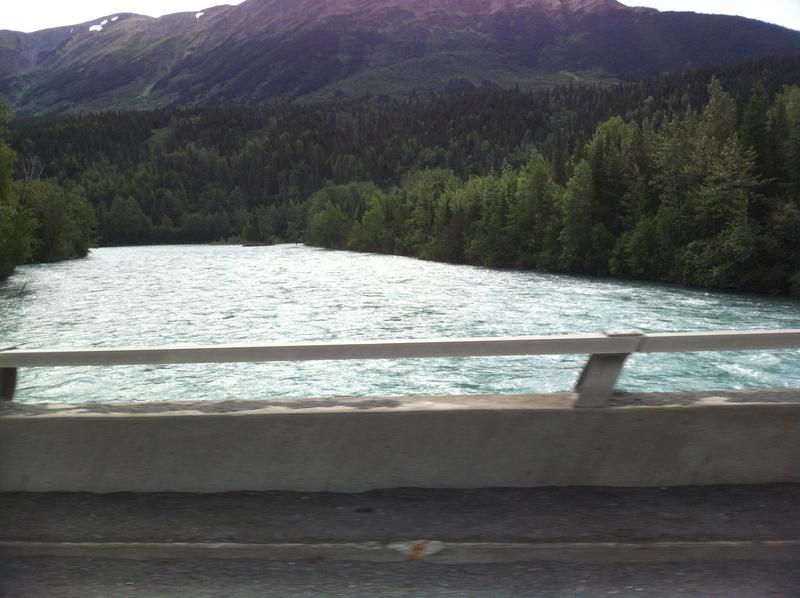 It was another beautiful day in Alaska. We had just concluded our one night stay in Homer. We had figured, by this point, we were sufficiently far enough away from Haines that we should slowly head back (almost 1000 miles). There was still much more to see though! There were a few stops left on our list and both were worth it. Day 13 here we come.
Daily report: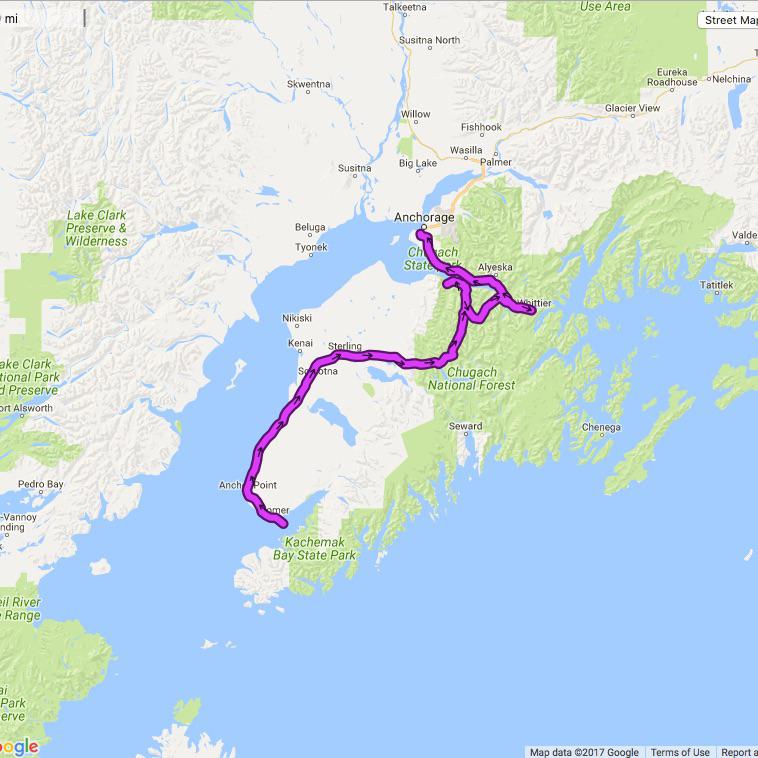 We got off to a late start this morning. We had our disassembly process down to a science and soon we were on our bikes rolling down the road. We stopped for gas around 11:19 and hit the Sterling Highway with a vengeance.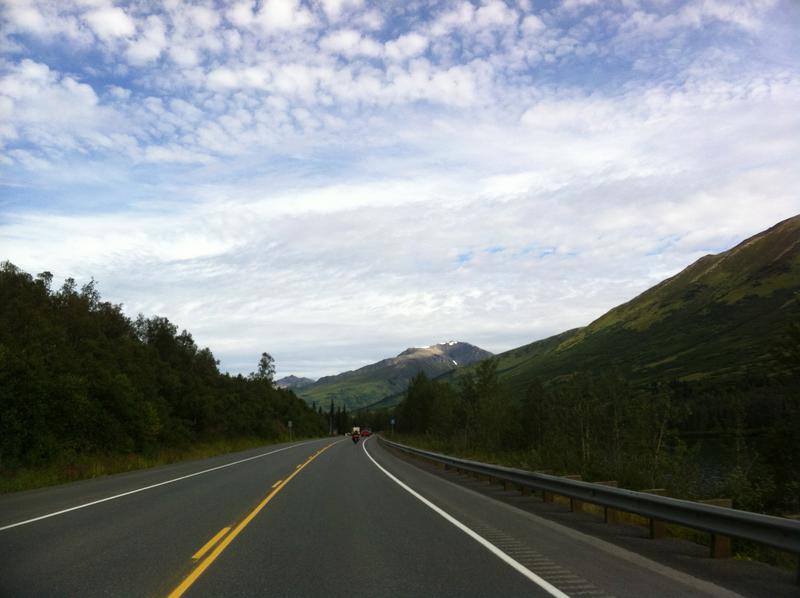 We didn't make many more stops for pictures on the Sterling Highway going back. The weather turned out much nicer than the day before. (on our way down it got pretty cold. on the way back not so much). I did manage some more rolling pictures: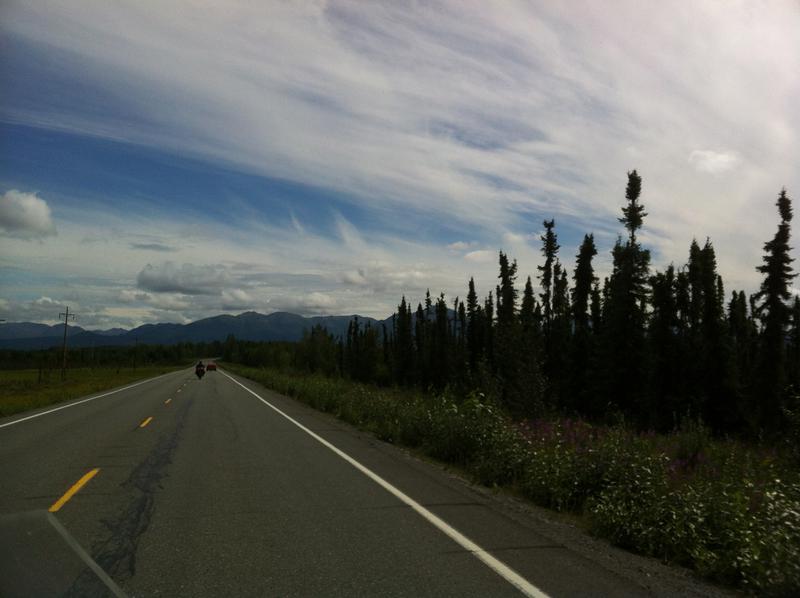 Around 13:21 we did stop in Sterling for some gas. I knew that this could get us up to Hope and back and possibly even to Whittier. Our plan from here was to get to Hope and have some lunch and then figure out the rest of the day. So we got back on the bikes and rode for Hope.
Once we got to the Hope Highway, we were greeted with nicely paved twisty roads. Nothing our bikes couldn't handle. It was a nice change of pace and the scenery was a great complement to the fantastic riding.
We arrived in town around 15:00 and found a table at the Seaview Cafe.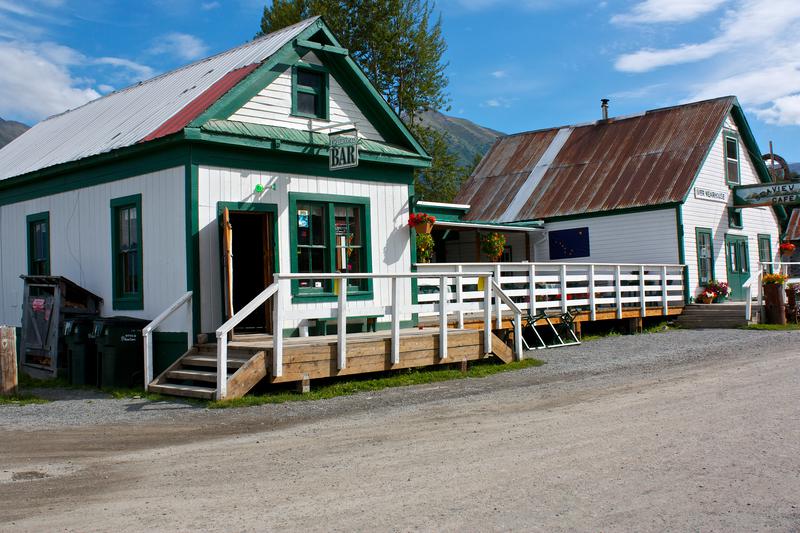 Phil's book suggested to go there for the chowder so we ordered just that! Gregg got a bowl while I got a cup and a sandwich. (turned out to be the better idea). The sandwich was good but the chowder left something to be desired. (Phil why are you letting me down man!) Once we ate, we walked around. We found the creek that runs through town low and behold there were fish scurrying around in there. Gregg grabbed his GoPro, extension and dunked it in the water. He got some neat video.
Once we had enough of the fish, we packed up and decided to head out and over to Whittier. Interestingly, the only way to get to Whittier is by boat or through the approximately 2 mile one lane tunnel. The tunnel is multi-purpose serving both vehicles and trains (train tracks built into the ground).
We soon arrived at the toll booth. Turned out it was $12 a piece for motorcycles. (we were under the impression it was $15) We paid our tolls (cash or credit card) and were instructed to stand by the bathroom (for some unknown reason). We waited, we waited and we waited. "What the heck. I'm not sure why we are waiting here." So, we decided to get rolling. But the second we got moving the barriers to prevent entry went down (whoops).
As we stopped, a couple of the tunnel guys pulled up and explained the situation a little better than the girl did at the booth: Motorcycles always go last. I assume this is more of a safety precaution but also to keep things on time. I could imagine riders have taken some tumbles in the tunnel because of the railroad tracks. "Ohhh. Ok. That makes sense."
Soon enough they let us through. The tunnel was damp and dark. I did manage a picture: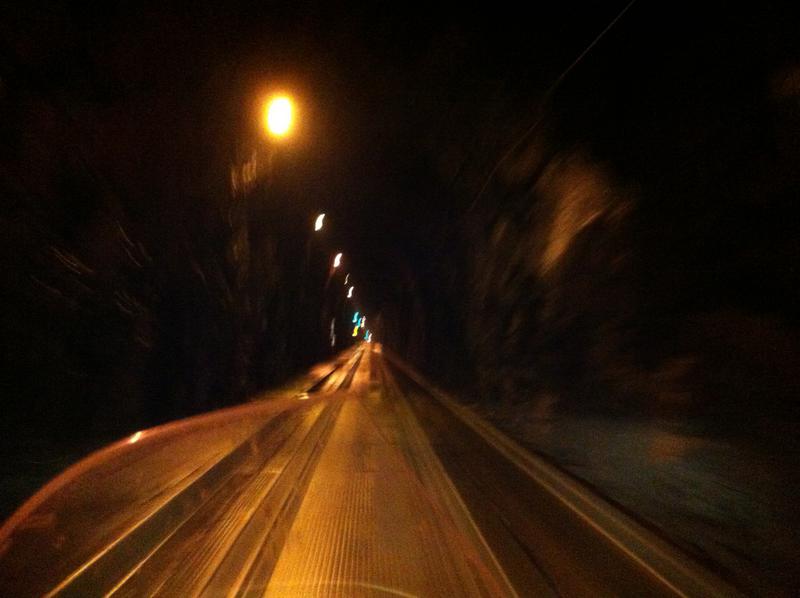 We rode down the middle as recommended. It did get annoying as we proceeded past the exhaust fans but we made it in once piece.
After emerging, we rolled toward town. It turned out this place was much smaller than I imagined. Off to the right you could see the giant concrete building which used to house the whole town (hospital and movie theater included). We parked at the end of town, grabbed some ice cream and found a seat over on the break water. I pulled out my camera and got a picture of the bay.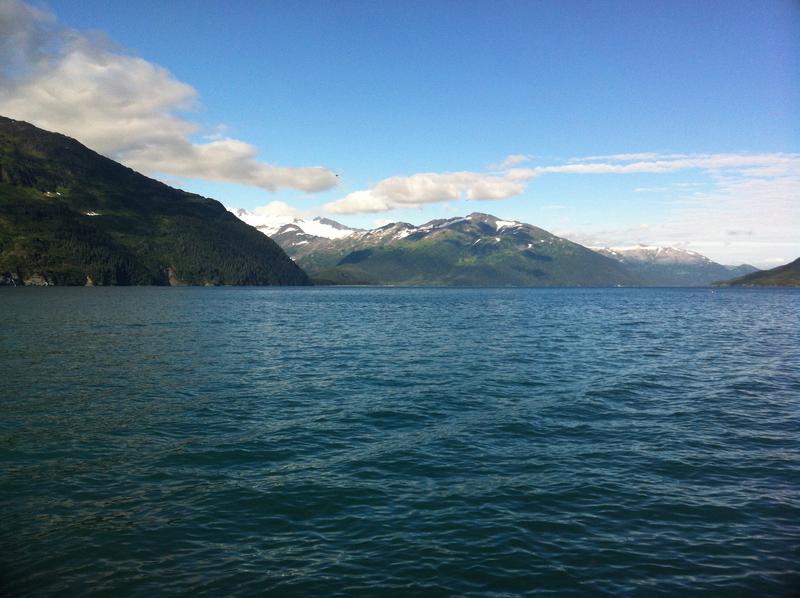 We walked around some more. Though the town was small it had its own little charm that both Gregg and I appreciated. Gregg got some shots of the Marina.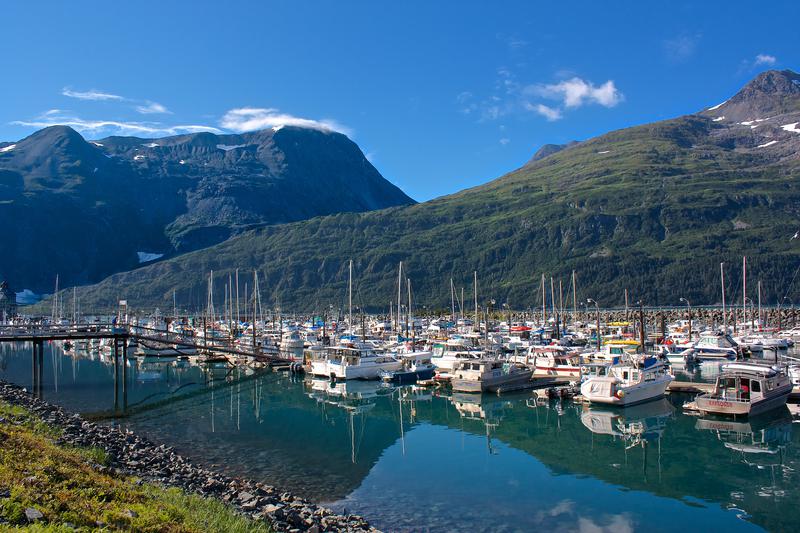 We walked down the entrance and toured all the boats. One thing we thought was fascinating was the fact that the water was crystal clear. To the point where we could drop little pebbles and see them fall 8-10ft down to the bottom of the marina. Gregg got a great shot of one of the boats. There was stuff growing all over the hull.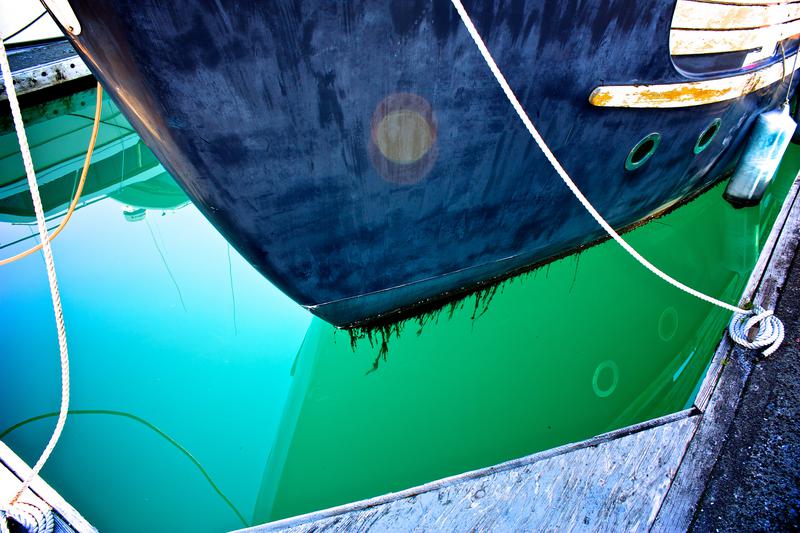 We soon wrapped up our tour. Next stop: Anchorage. Up the road we went and back to the entrance of the tunnel. Just before passing through Gregg got another shot of the glacier to the right side of the eastern entrance.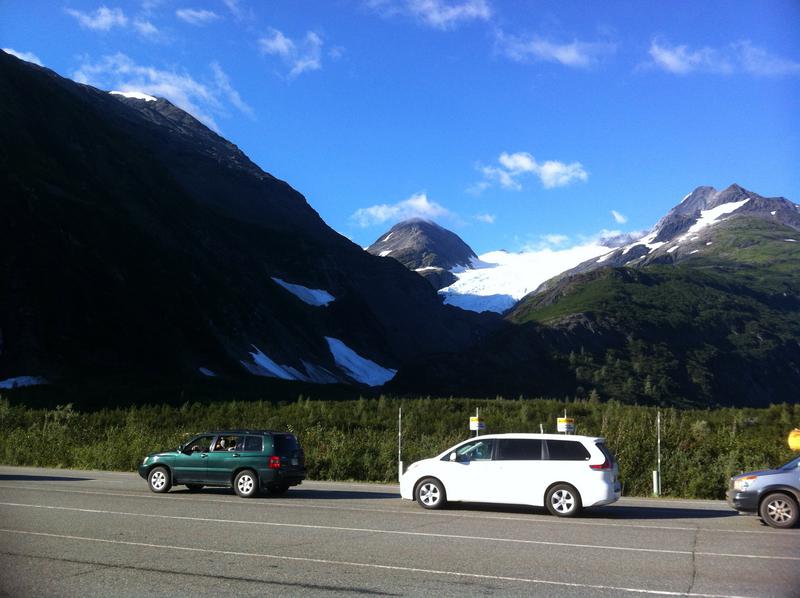 We couldn't go anywhere without seeing them.
Moments later, after all the cars had passed through, we were waved in and we rode the tunnel back to the connected world. The moment we were on the other side we pulled over and took some pictures of the floating pieces from the Portage Glacier across the lake.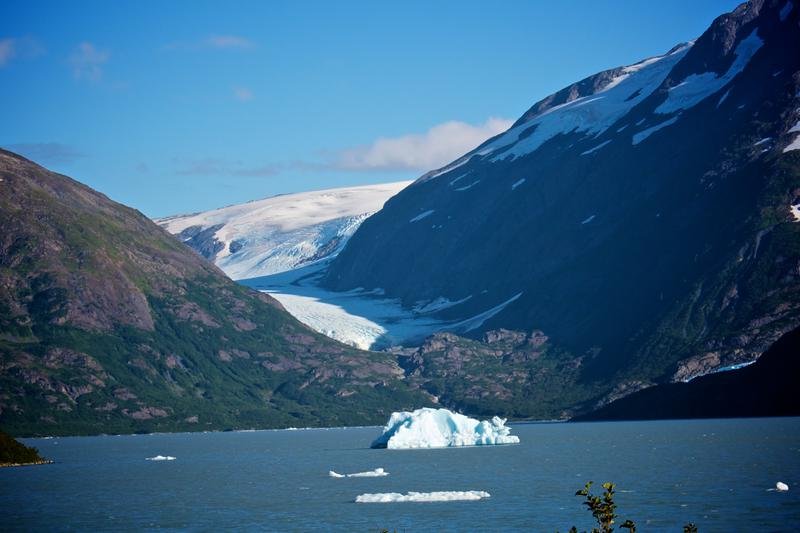 This had been our first views of the results from glaciers calving.
We hit the road again up to Anchorage. We were planning on staying at the House of Harley Davidson as they offered free motorcycle camping to the side of their building.
The ride back from Whittier was short and uneventful. We needed gas and food though so we stopped off the highway and Gregg Yelped for a restaurant. He shortly found a restaurant and we were on our way again. We navigated the roads until we found what we were looking for: Arctic Roadrunner It's an order-at-the-counter type place serving all types of fast food sandwiches. It's just what we needed after a long day of riding.
After dinner, we headed over to the House of Harley. As we pulled in and parked we were greeted by one of the Motoquest guys. It turns out that Motoquest shares the same camping common area as the House of Harley. We were also greeted by one of the other campers. He had been riding from Florida on his BMW 1200RS. We got to chatting about our adventures and he gave us some tips about what to check out in the area. He was planning on taking the same route we were taking down to Haines but a week later. We hooked him up with the Vanessa's campground info (Thompson's Eagle's Claw Campground) for good measure.
After we set up camp we were invited to come hang out on top of the MotoQuest roof. To get there we had to climb up a large pallet that scaled the back wall. (cheap ladder) We met some of the guys and they offered us some beer. We spent an hour or so getting to know each other. It sounded like they have awesome jobs. (but it could be stressful sometimes -- especially prepping for back to back adventure rides)
After hanging out for a bit it was time to turn in. Thanks again to Brenden, Ovi, and everyone else at Motoquest for being so welcoming. Also thanks to House of Harley for hosting!
The Gear
What was another valuable piece of equipment we couldn't have done without?
The spot tracker.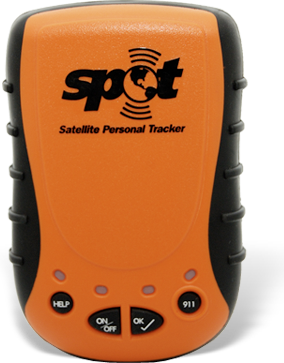 It was known that Spot often sends out the devices to subscribers to share with friends. Gregg put a request out on Advrider and was able to snag one for free. The only catch was he had to pay for service. ($99 a year)
Anyway, we kept this little guy on the whole trip and only had to replace the batteries once! Our family and friends were able to go to a website we provided and check our progress as we motorcycled Alaska.
Were there any cons? Nope. Not really. The device worked without a hitch and I would recommend it to anyone.
Note: We used a generation 1 device which supposedly worked better than their newer models. (I know performance regression. Bummer.) Keep that in mind if you are in the market for one.
Update 4/8/2017: I have since found some handy iPhone apps that I used to track my journey throughout the west coast. They are Galileo and Route Tracker. The former is used to record my tracks and view my maps whenever (with our without cellphone data) and the later is used to track my location real time so my family knows where I am. Spot is still useful but comes with a hefty price tag. Check out their latest one on Amazon here.