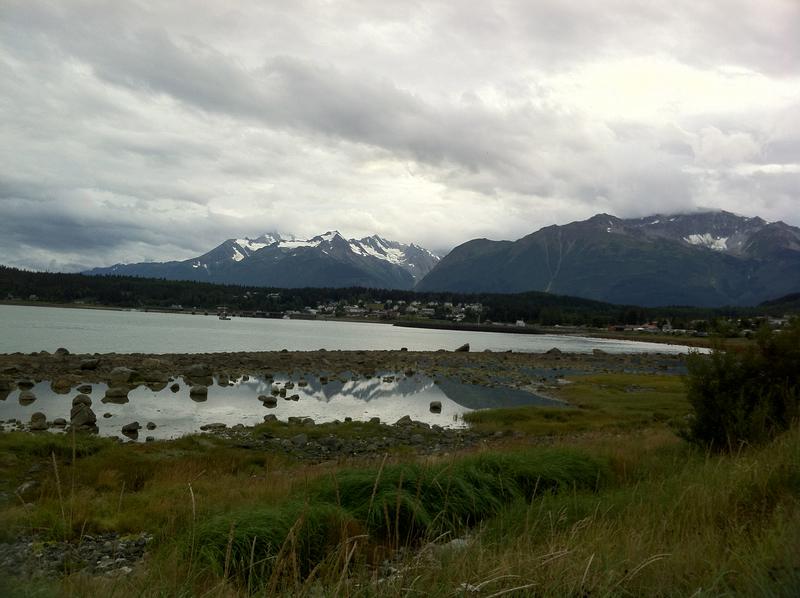 A new day, a new adventure! We pack up, head into town, and wait for the Ferry. Day 17. Lets rock and roll!
Daily report:
We woke up around 10:00 PST. We ate some breakfast and gradually took the campsite down. We would have a whole day of waiting ahead of us so there was no rush.
Once camp had been dismantled, we shot back into town. We decided to peruse the grocery store and purchase any last minute items to get us through the ferry ride. I ended up buying (most importantly) a microwaveable Pyrex dish to cook the canned soup we had acquired along our trip. (I ended up making several trips to the store that day so I'll leave the silly details out)
Gregg and I also spent the morning touring the town and all the little shops. We both wanted to get some nice things to give to Robin and Sarah on our return. One could definitely spend a bunch of dough on nick nacks but we both ended up finding some moderately priced stuff that didn't break the bank.
Once we got bored of town we decided to head back toward the ferry terminal. Instead of stopping though we kept going. We actually continued across a bridge, down the street until the road stopped and then we turned around. ( dead end roads are not so much fun for us motorcyclists ). We did find a comical sign that was worthy of a picture just past the bridge: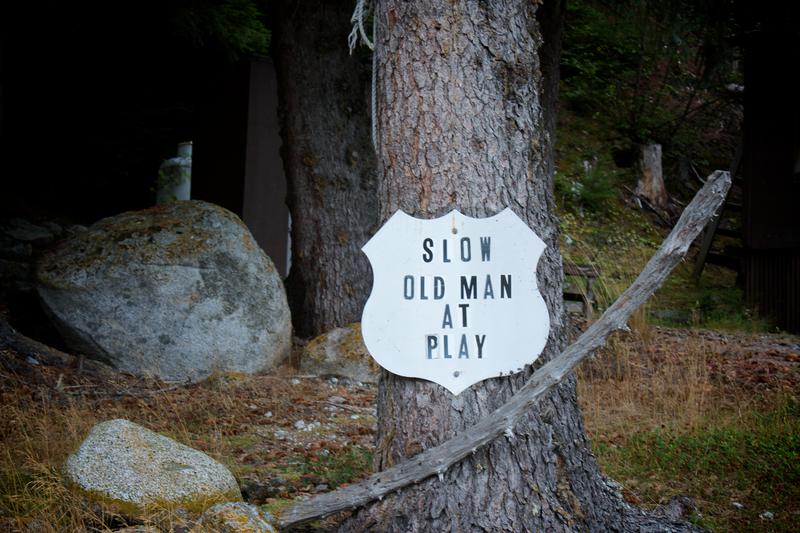 Watch out for the old man at play.
We arrived at the bridge and decided to pull off. Only moments after stopping a bald eagle soared above us and perched at the top of the adjacent tree! Gregg hastily set up his camera and long-range lens.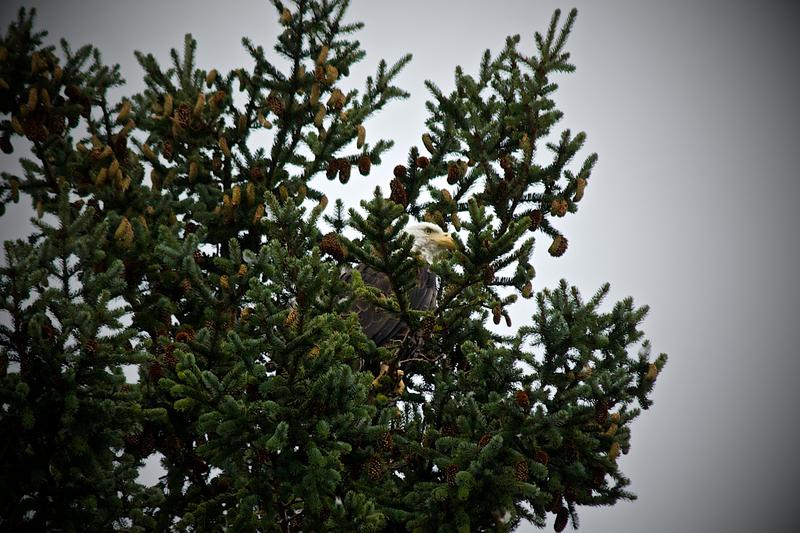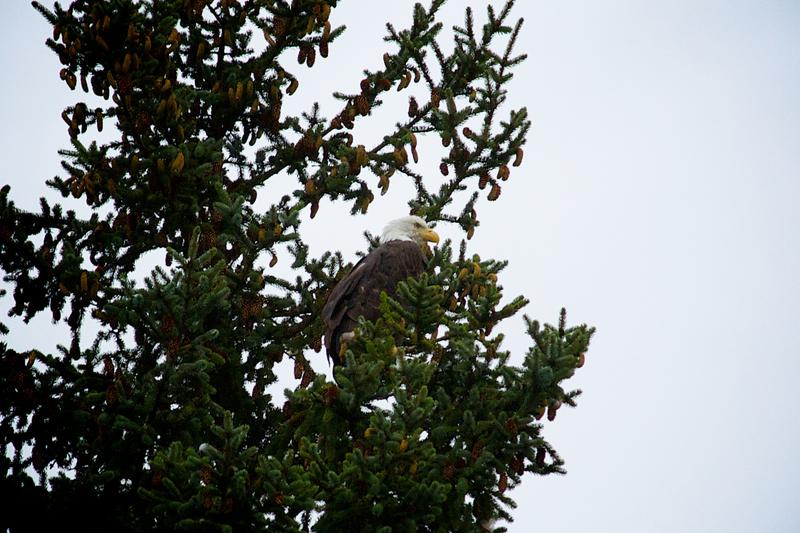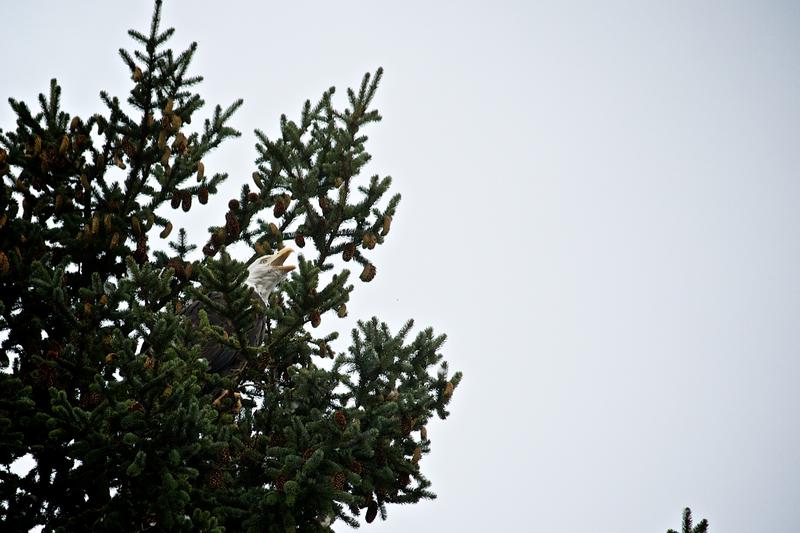 It turns out that if you want to see a bald eagle this is where you need to go. We proceeded to see several more (different) bald eagles float around, land, and squawk. Their call seemed to be halfway between a seagull and a crow. Weird.
We spent much of our time here by the bridge. There was wild life everywhere! We even watched a man and his wife fish humpies from the river.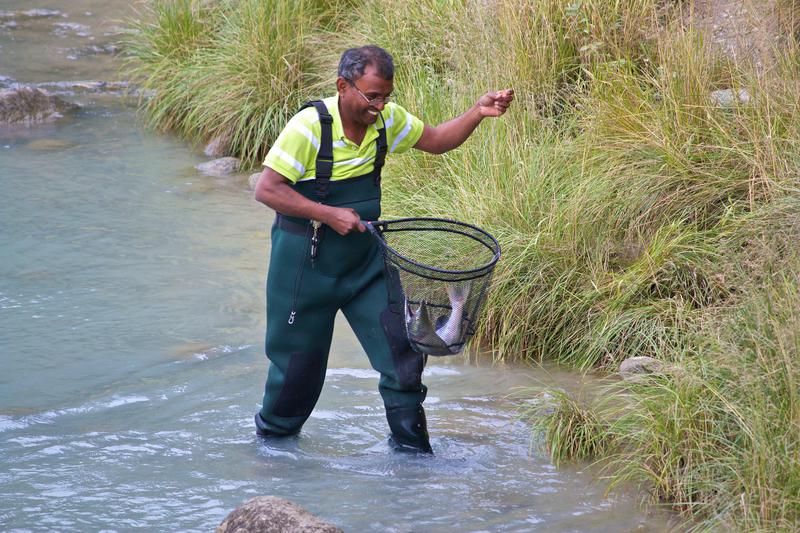 And then I saw them. There they were pouncing around in the water. It was a bear cub and its mother foraging for food!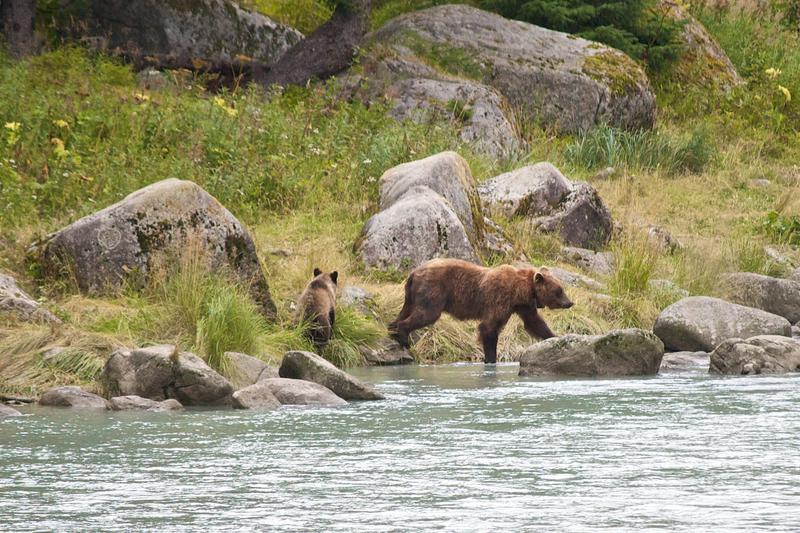 Gregg, at first, got some far off shots but we knew we had to get closer. There was a state campground near by so we rode over there to get a better vantage point.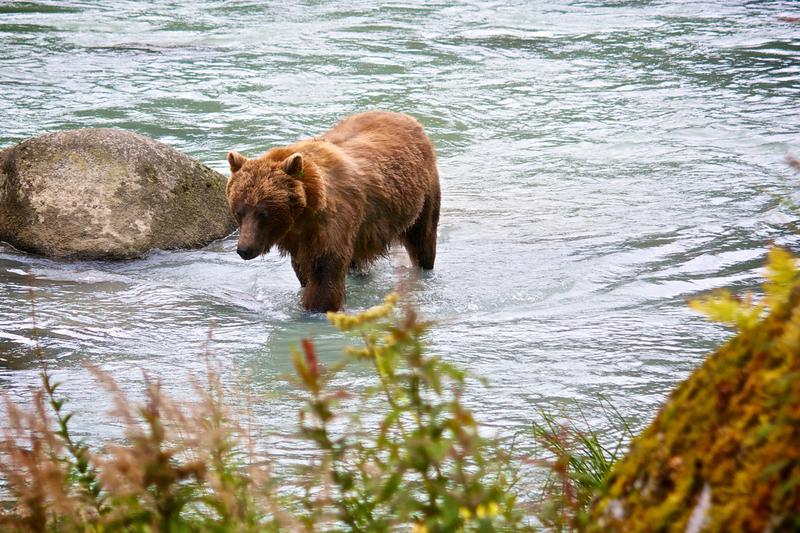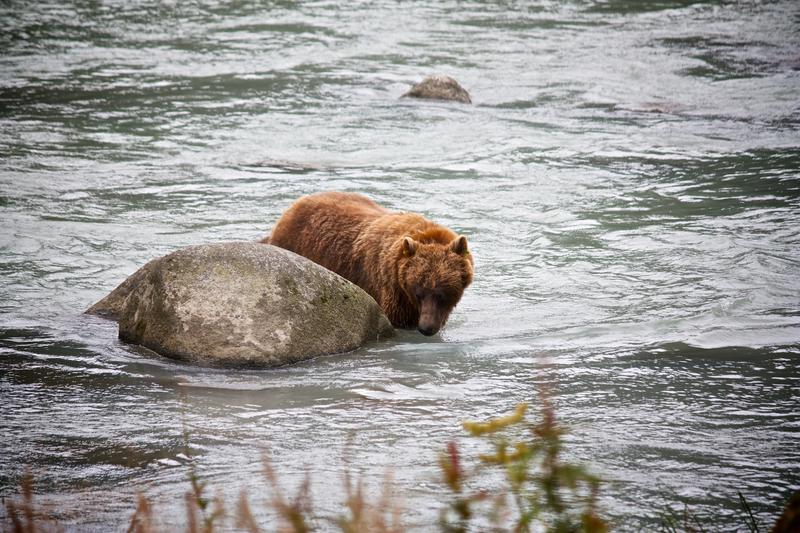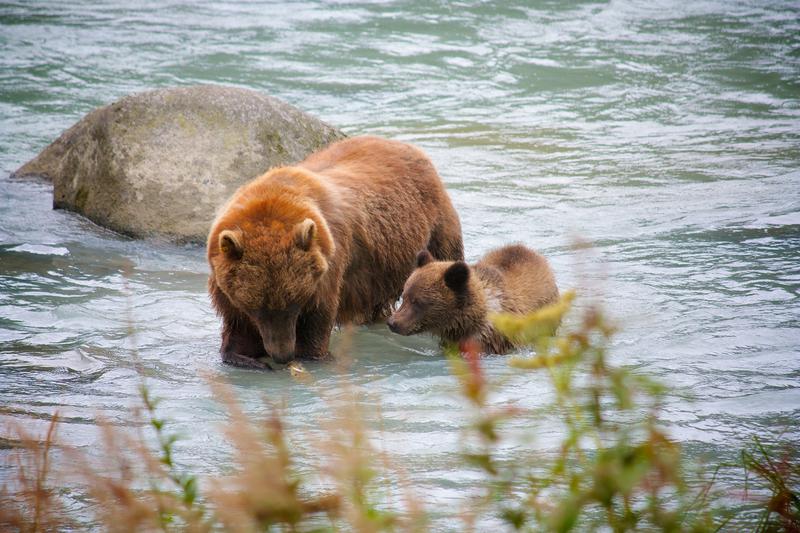 As you can see Gregg got pretty darn close to those bears. The bears started shifting up towards the road to the point where Gregg was uncomfortable enough to relocate (down the road). We motored back to the other side of the bridge to hang out. It was fun to watch the bears displace the fishermen as they cast out along the riverbank. It was cool to see live bears in action in an uncontrolled setting (since we had been looking for them all trip long!!).
We futzed around some more and then headed back into town to get some cell phone coverage. It was time to make some phone calls and update our families. We did take some more pictures though: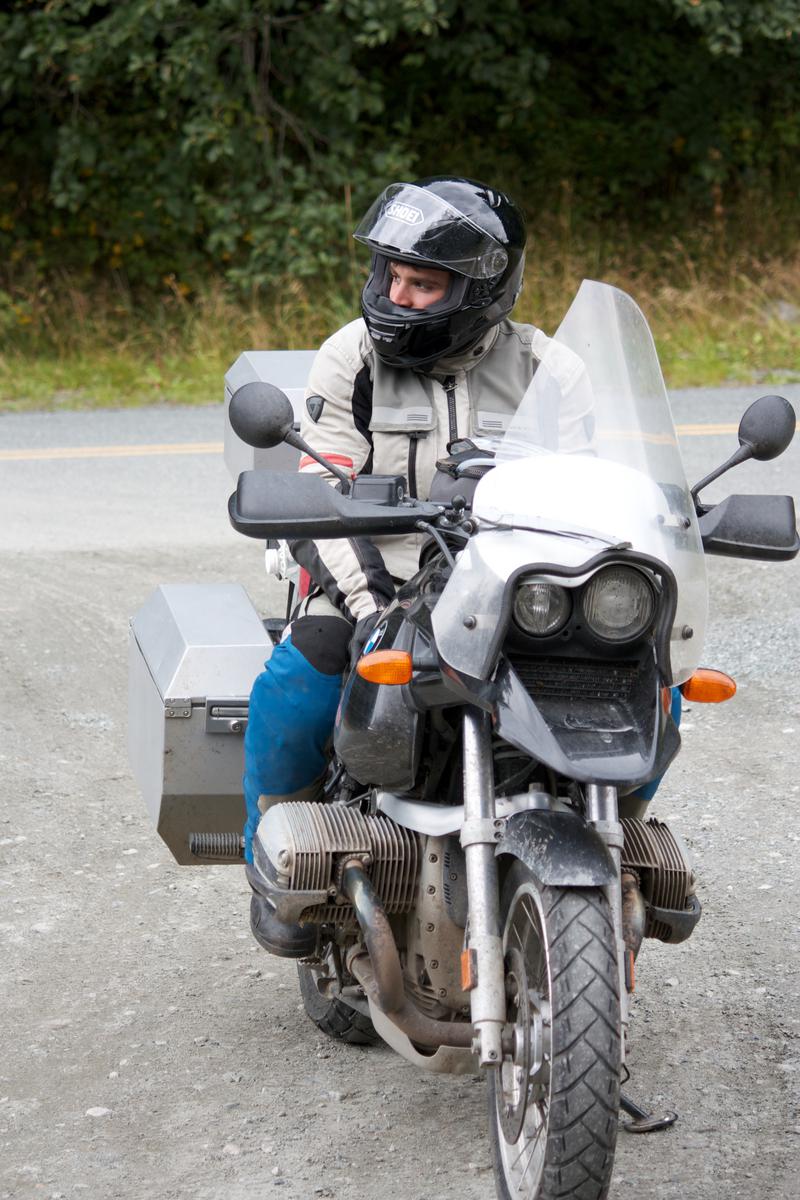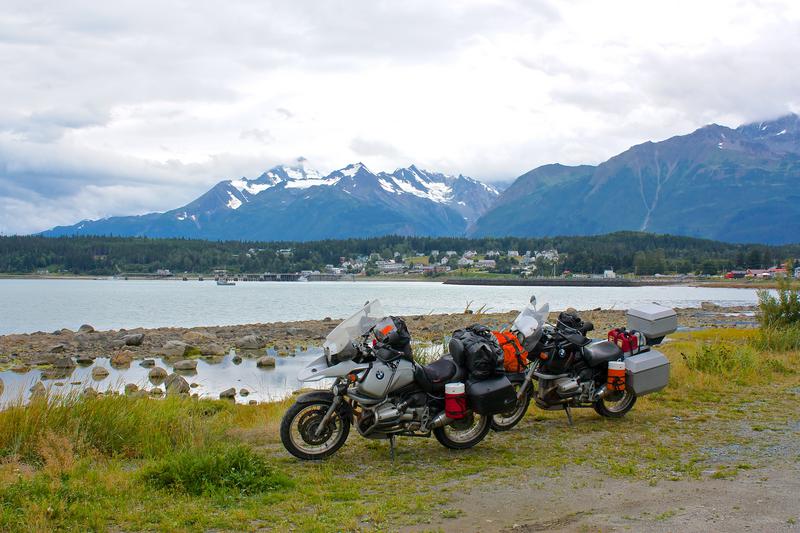 It felt good to check off some of the remaining boxes we had from our Alaska todo list. All that was left was to get on the darn ferry and back to San Francisco in one piece.
Finally, after all the phone calls were made we rode back to the ferry terminal and got in line. We happened to meet up with another Advrider inmate, Steve, and struck up a conversation. He had been riding around since June!(!!!) He was sporting a 2012 1200GS and hiked up all the way from LA. He aptly named his motorcycle Miss Adventure and even had a decal made and stuck it on the windshield. You can see it in the picture below: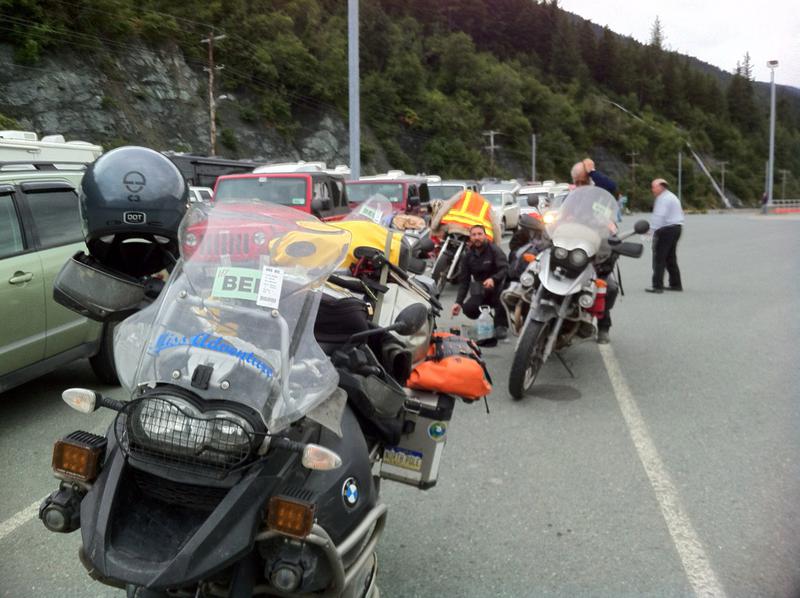 As we chatted with Steve, Gregg and I proceeded to make our final penny stove dinner in the parking lot. Pasta and sauce. It would be nice to have real food again soon..
The boat soon arrived and we started organizing our things. We ended up making a checklist of all the things we needed to bring up. (not really necessary. See below.)
Tips: Here's what we didn't know about the ferry system and I hope to enlighten anyone that has any questions about their processes:
It's a crap shoot whether you will be put on the boat first or last. It's really up to the crew. For us, we were some of the first vehicles on once they had loaded some trailers.
The moment they start loading cars you can ask the attendant at the end of the ramp if you can board. I had no problem here just make sure you have your ticket!
Because Haines is the second stop you shouldn't be too worried about getting a spot on the solarium or on the deck if you're camping. We had no problems.
Park and tape your tents as close to the "No Tent Area" as possible. The open deck gets windy and if you don't tape your tent down good enough it will shift or even fly off!
With that said make sure you bring a whole roll of duct tape. You will use the whole thing. (we shared. if you are a grumpy guss and don't like sharing you should have plenty left over)
If you want to get off and ride anywhere during the layovers you need to purchase separate tickets otherwise you get stuck in the bowels of the boat not to move until Bellingham.
Once your on the boat, you have plenty of time to bring stuff upstairs. There is no reason to freak out and rush.
Ratchet straps are a must. They have some but not nearly enough if there are more than 2 bikes. We are glad we brought our own.
Any flamable gas/liquid must be stored in the paint locker for the duration of the trip.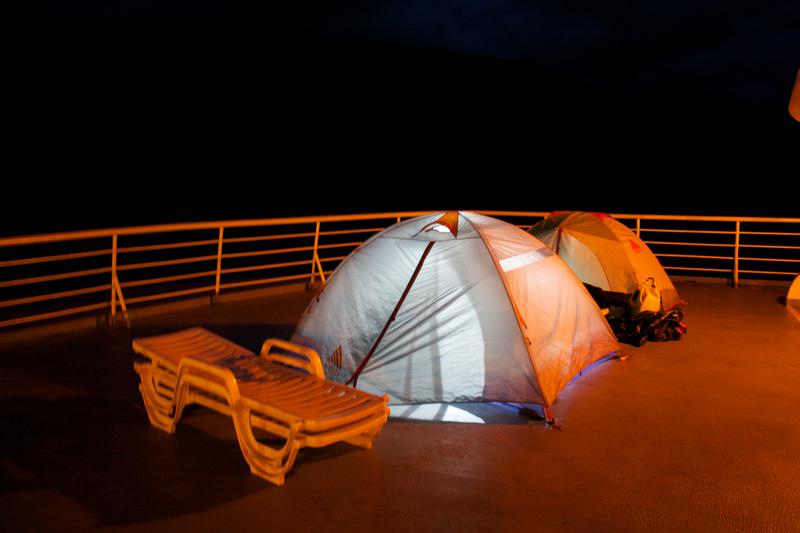 Tip: I'm particularly sensitive to diesel exhaust. (even after working around ambulances and fire trucks for a good portion of my life) If you are too you may want to consider sleeping inside as the exhaust blows down across the top deck. The M/V Columbia will be undergoing some surgery over the winter (she's getting new engines) which will help with this issue in the future. But be warned!
After a whirl of activity we were finally on the top deck under the solarium. I chose to stay under the solarium while Gregg decided to stay in the tent. We pulled out some beers (shhh not usually allowed) and drank to the next part of our journey.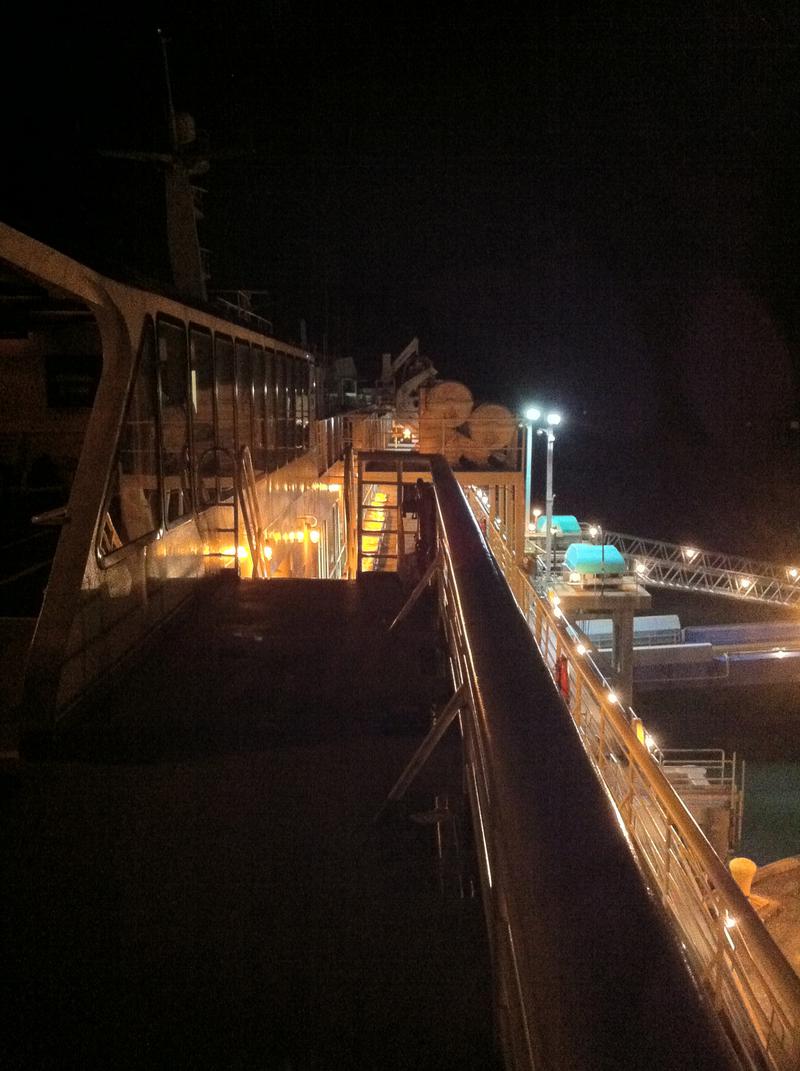 The Gear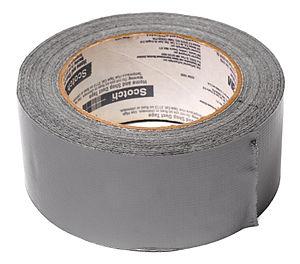 It goes without saying that duct tape is the most versatile and valuable pieces of gear that anyone should carry.
Going on a car trip? Don't forget the roll of duct tape. Going to fix the sink? Don't forget the roll of duct tape. Going on a 3 week adventure to Alaska on your motorcycle? Don't forget the roll of duct tape.
We used it specifically to tape down the tents but also to hold the bits of my windshield together. (which it still is right now..)