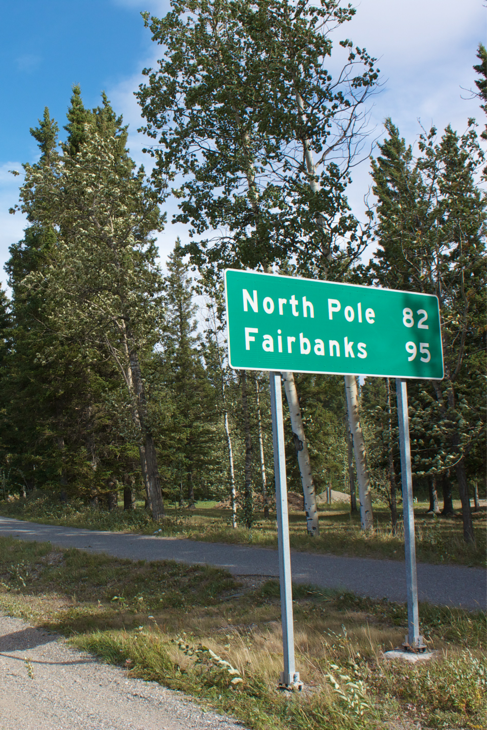 Note 3/17: this is a repost back from September 2, 2013. Enjoy!
Rumor had it it was raining in Anchorage. Rain is a good thing but not when you're riding your motorcycle through it. We decided to book for Fairbanks. Our final target: The Arctic Circle.
Daily report:
We packed up at the campsite and got going around 10:30. We rolled up toward Fairbanks in a semi-relaxed pace. As we rode we noticed that lots of the trees to the left and right of us had been burned (recently).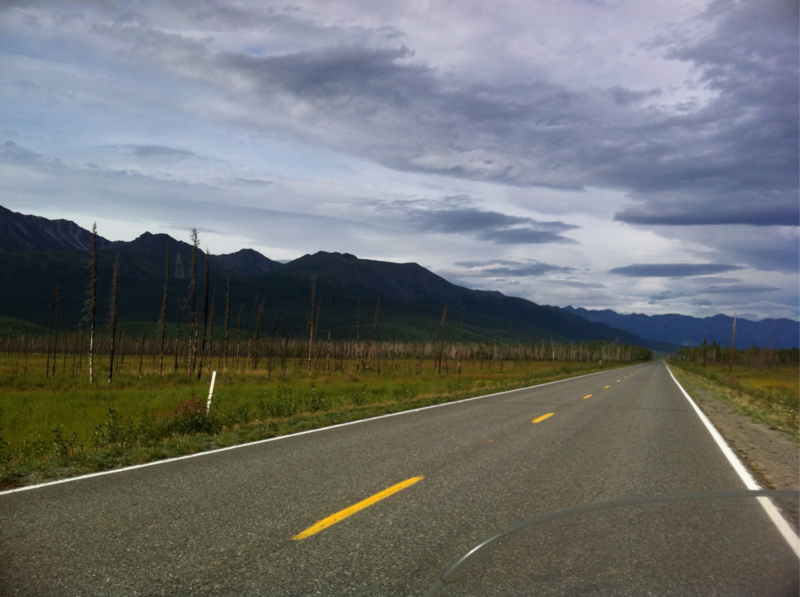 We also got a kick out of the higher mountains that lay in the distance. Unfortunately as we rode, they disappeared. Where were all the mountains going?!
We kept riding and noticed the now familiar smell and appearance of a distant forest fire. This was the most intense fire we had seen so far.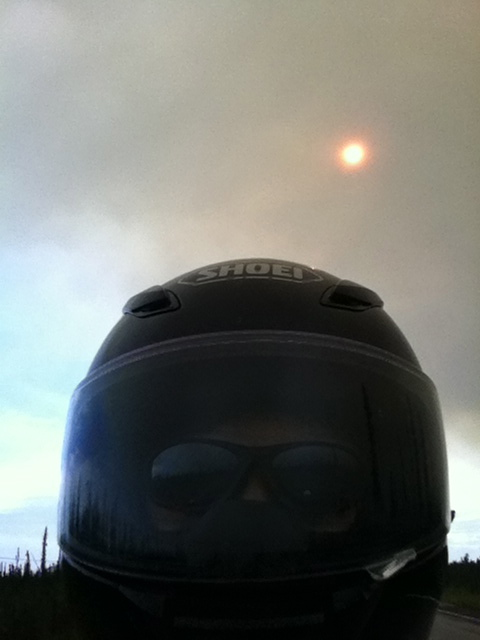 It's crazy that people in Alaska have to live through this stuff every year not knowing when a fire could come rip through their towns. I guess it's the price you pay!
As we continued to ride the smoke began to dissipate but by our arrival at Fairbanks I realized that we would have to live with it some more. We rode into downtown at approximately 14:13 and filled up our bikes (90 octane aw yes). With our stomachs about ready to implode on themselves we decided to stop at the Cookie Jar to get some much needed sustenance. What was on the menu? Country fried steak. With no internal (or external) negotiation we both immediately ordered two plates when the waitress addressed our table. Worth it? Every penny
We did some further planning here. Debating whether or not to aim for Deadhorse or be conservative and aim for the circle. We wanted enough time to see everything and, from what we heard, there wasn't much to see in Deadhorse once you get there.
Once our bellies were full we fired up the bikes and rode up the Eliott Highway to eventually connect with the Dalton. It was moderately fast to get to the beginning of the Dalton (mostly all halfway decent pavement).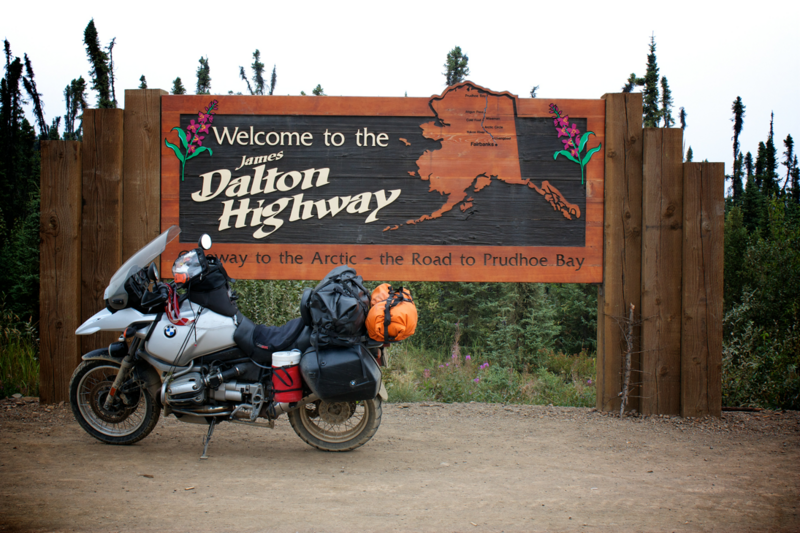 But as we began our trek northwards there was pavement no more.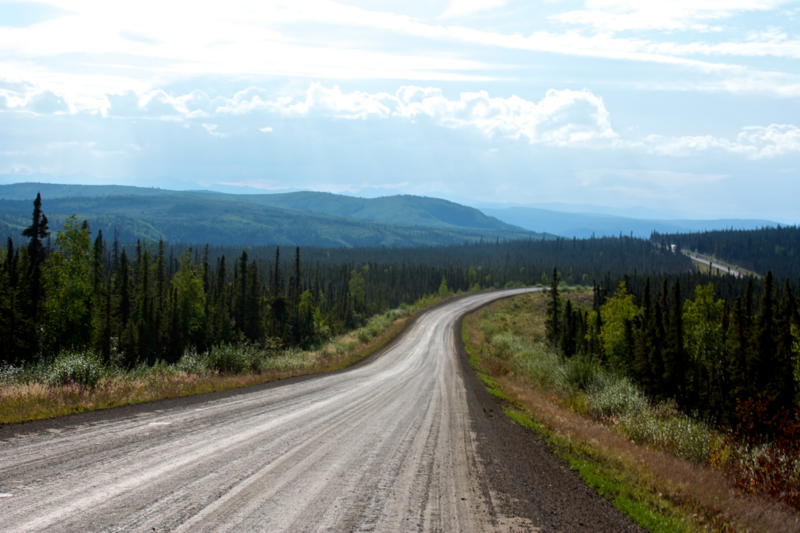 The smoke continued to dissipate as we rode further north. We both started getting excited because the Dalton, despite its drawbacks, is pretty! Occasionally we would pass a trucker or another car or the occasional bicyclist (and people thought we were crazy). Mostly though, we were on our own cruising on this packed dirt road in the middle of the Alaska wilderness.
Tip: Always move over more and slow down for the truckers (and they will for you too). Both Gregg and I got pelted with some rocks that got kicked up by the trucks. Not a happy time. I also recommend putting down your face shield when getting close to semis and pickup trucks. You'll thank me later.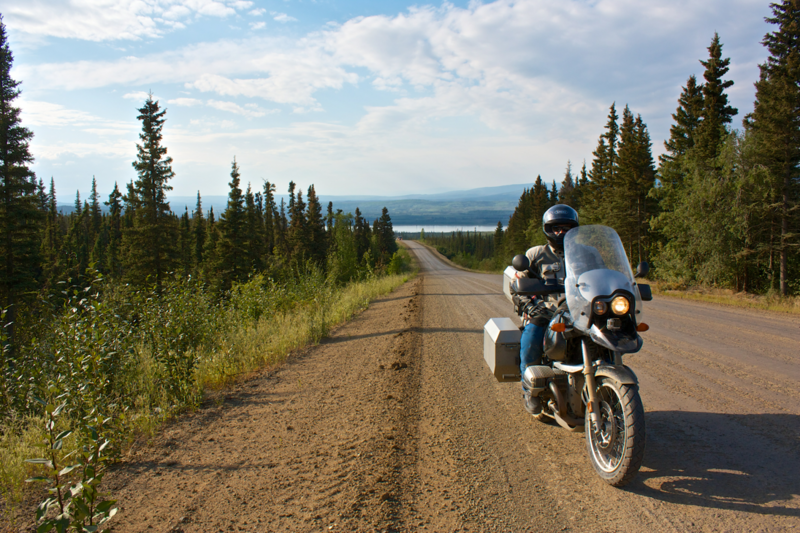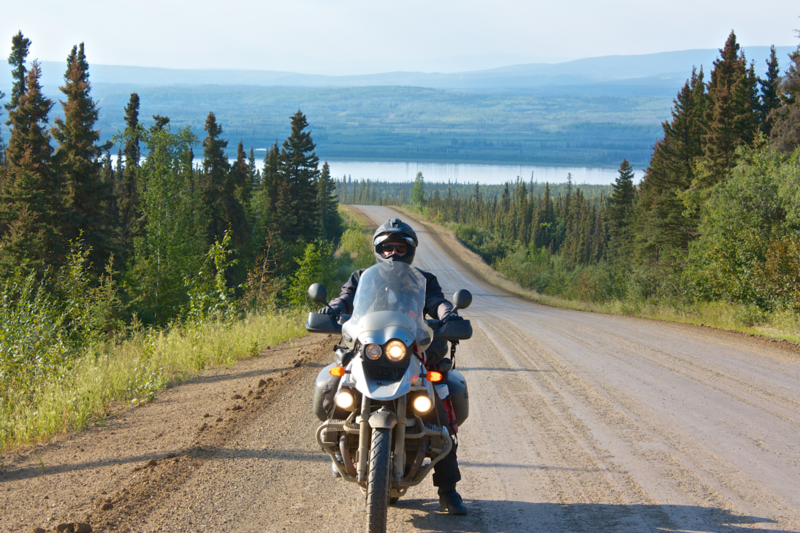 After taking longer than we expected, we arrived at Yukon River Camp. There isn't much to see here but if you're hungry and need gas this is the only place to get it until Coldfoot.
Tip: You have to walk inside to the restaurant in order for the pump to be turned on. Leave your credit card with the cashier in order to proceed.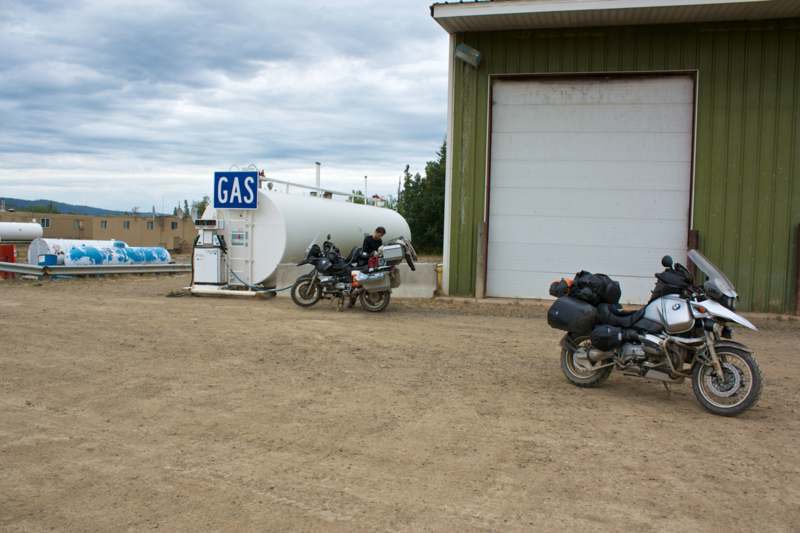 We filled up our bikes taking note of the odd smelling gas we were putting in our tanks. A little extra octane booster for you... and for you..
Once we paid we got rolling down the road. We weren't too far from the circle and we had plenty of daylight.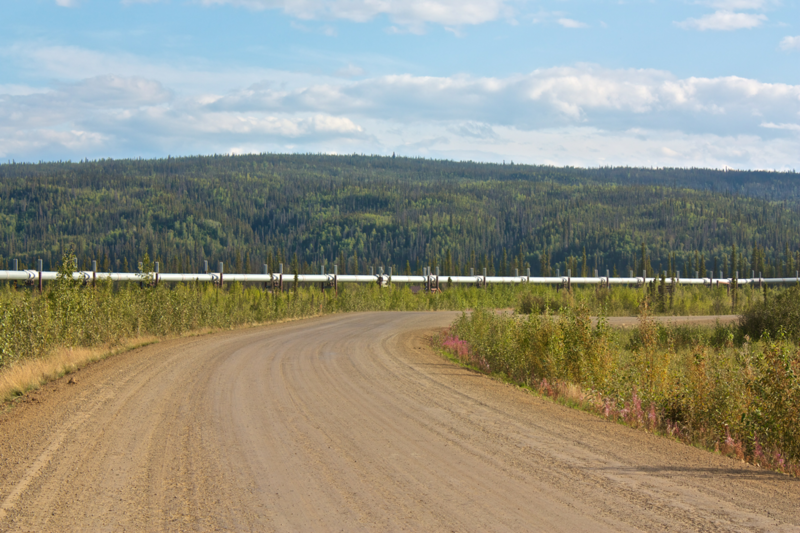 Of course, the trip up the Dalton wouldn't be complete without a mention of our encounters with the Alaskan Pipeline. The pipeline and the road seemed to interweave with each other. Sometimes they would run parallel or sometimes they would diverge in slightly altered paths. It was cool too see and imagine all the hard work that had to be done to put it in.
We continued to ride and found one rough patch of gravel right before arriving at the Artic circle. Just before our crossing, a semi and a pickup truck, got into a (big) fender bender. The dust that the semi picked up threw off the driver of the pickup and he ended up driving right into the semi's trailer. Good thing no one was hurt. (makes for a bad day though!)
Finally, around 21:00, we made it to the Arctic Circle sign.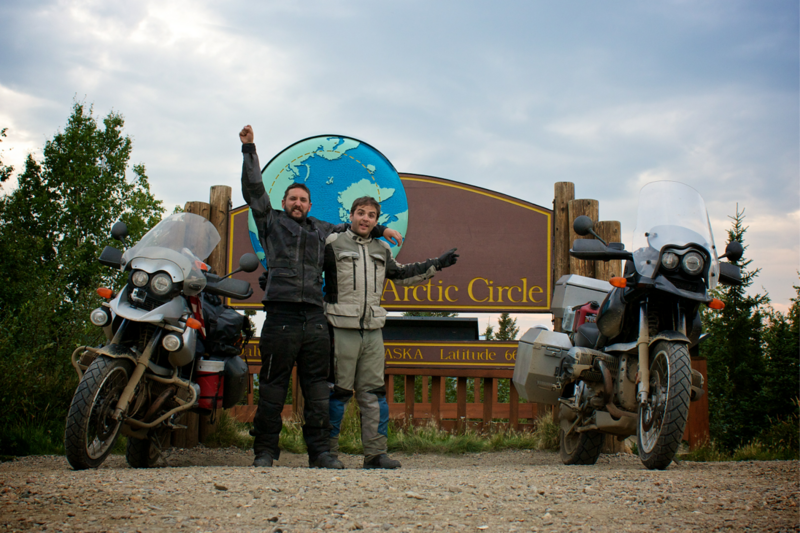 After some pictures we headed to the campgrounds right behind the Arctic Circle sign. Even though it was late there was no sign that the sunlight was waning. We set up camp and decided to eat food across the way. We made dinner on one of picnic tables. What was on the menu? Peanut butter and apple butter sandwiches.
Tip: Always a good idea to cook away from your tent. No matter how careful you are you will spill something on you, your gear or the ground. This will definitely attract wildlife (especially bears!).
We hit the sack knowing we would have a long run back the next morning. Kickass.
The Gear
The gear of the day award goes to: nylon paracord.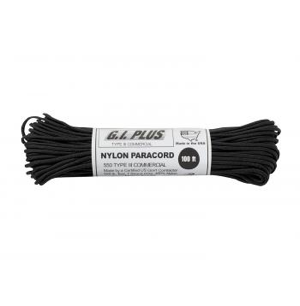 Any good survivalist will tell you a spool of good paracord is worth its weight in gold. As a few examples, it's useful for putting up a clothesline, hauling heavy food rucks into trees, and tying down the corners of an improvised lean-to. We especially used our paracord for the first two items. The paracord was ideal for suspend our food ruck into the trees at night before going to bed.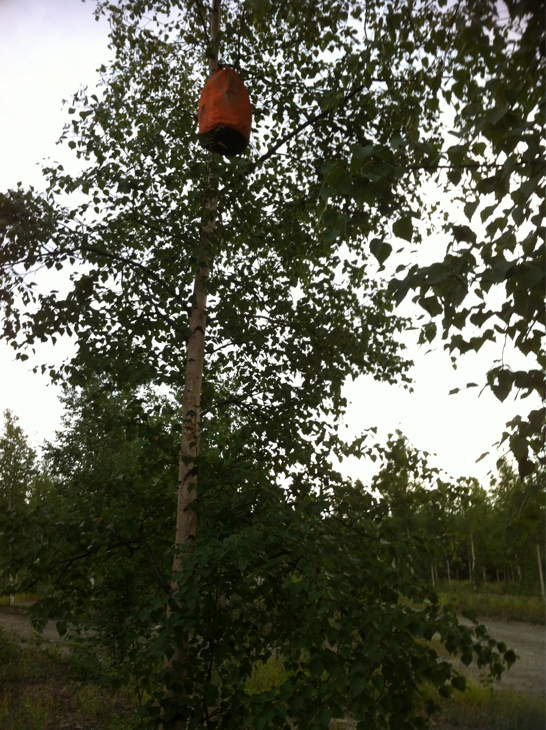 If the paracord got stuck in the tree we weren't afraid of pulling harder. This paracord is rated for heavy-duty action. So, don't forget the paracord on your next ride. You never know when it will come in useful. You can get it here.
Update 3/25: I still continue to use this paracord. I've used it to repair couches, hang my food up, dry clothes, and other misclaneous tasks. I continue to have a small length with me as I travel abroad becuase it's just that useful