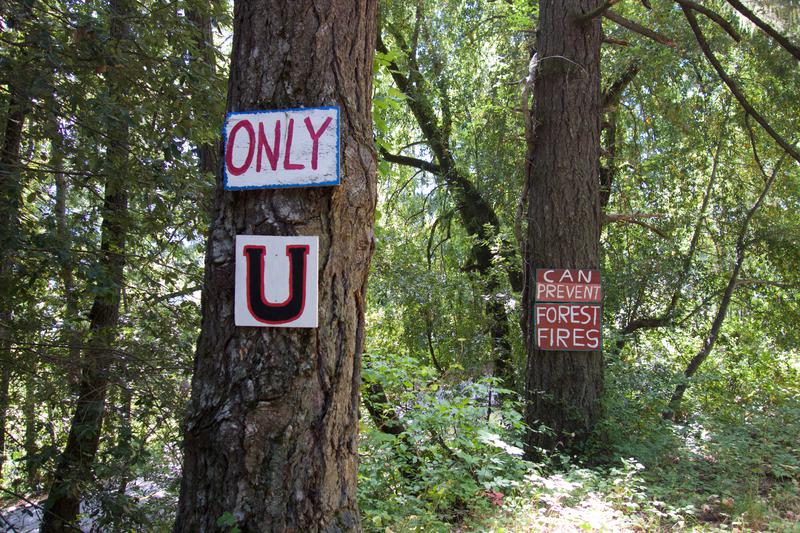 My day started at Clam Beach where I bid adieu to barking dogs and loud families. I wanted to get away from the coast which was cloudy and cold for most of my trip. I pulled out the map and it looked like a route running through the Cascades would be my best bet.
Along the way I ran into some construction. Similar to Alaska, these areas have two seasons: Winter and construction season. I bypassed most of it by taking more scenic side roads. I usually take that invitation anytime I see a sign that invites me to. I usually end up seeing something cool or funny. (See the fire safety picture..)
I rode to the top of the Greyback Road pass, cut my engine and coasted all the way to the bottom. I never had to use my throttle once after summiting. It put a smile on my face and saved me 1/2 gallon of fuel in the process. 😎
I rode into Camp Junction where not much was going on. Despite it being a bit lackluster they do have one of the coolest and tastiest meat markets around. They made and sold in-house dry rub jerky of which I tried every sample I could. Some of the girls working there recommended I camp by the Illinois in the nearby Rogue River - Siskiyou National Forest. So, I did just that.
I putted out there and soon realized that I would be on my own that night with no one around for at least a mile. On the plus side no one could/would see me bathing in the river on the minus side if a bear were to come for dinner I would be on my own in that regard. 🏃🐻
Overall a peaceful day and I enjoyed almost every minute of it. Check out the vlog for more details.
Daily Vlog:
Resources:
Taylor's Sausage Country Store
River Bench Campground in the Rogue River - Siskiyou National Forest