After a restful night at the campgrounds behind House of Harley, we got packing. We were to make a Wal-Mart stop and then hit the road for Tok. Our riding portion of the adventure was almost over..
Daily report: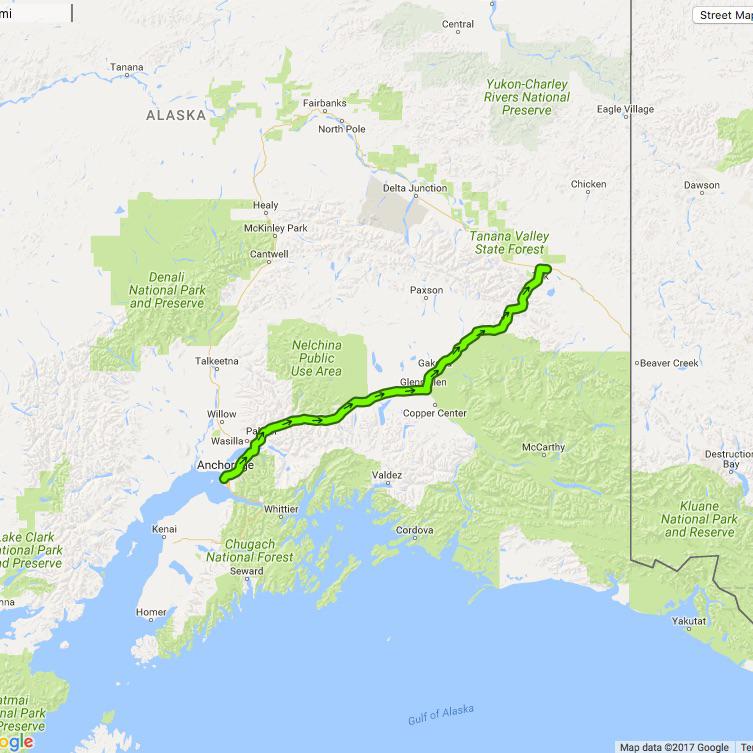 Riding back to Tok was simple as it could be. We would have to ride back up the Glenn Highway. We hadn't ridden this portion of road yet so we didn't know what to expect. One thing we did run into though was these wonderful patches of gravel.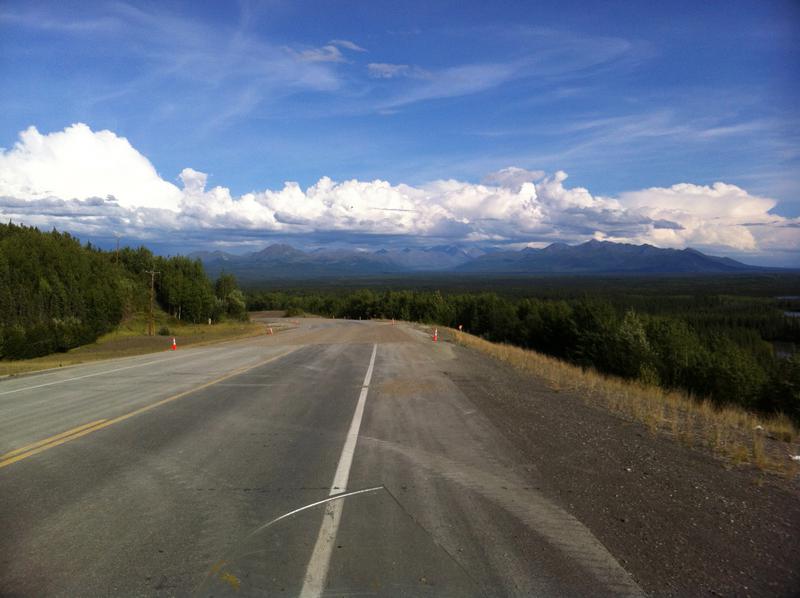 The short patches of grit appeared inconsistently as we rode along. They may have tripped us up at the beginning of our adventure but no longer. We flew right over each and every one without a problem. Our tires holding up even ~6000 miles later. Pretty amazing! (By the way we both ran a fresh batch of Metzler Tourances.)
Tip: The best way to deal with these patches, as long as you are on a straight portion of the road, is to maintain your speed and roll right through them. You're less likely to get goosey and at higher speeds you will "glide" across the gravel instead of sinking into it.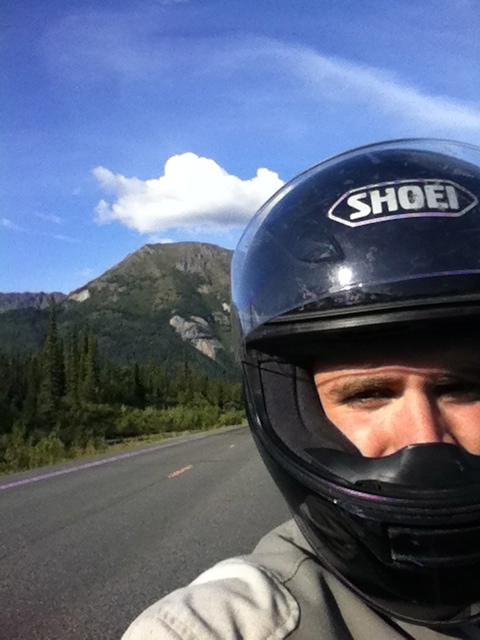 We stopped a couple times to take pictures. (of course) The Glenn highway had its own characteristic beauty. It was great to ride down and we practically saw no other people or traffic.
We made a fuel stop in Glenallen at our favorite gas stop with our favorite Thai food place. (buh) We filled up and got out of there. We were on a mission!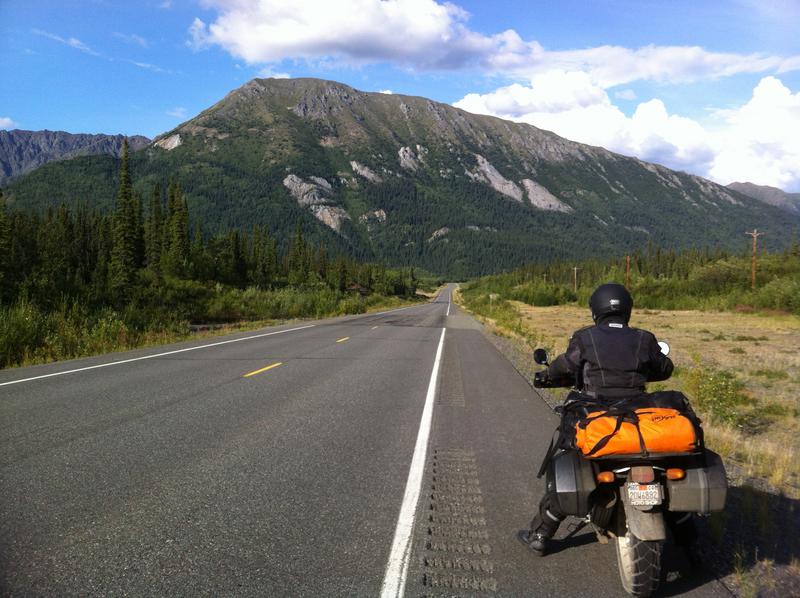 More pictures along the way. The above is one of Gregg admiring the mountains around us. He even got a picture.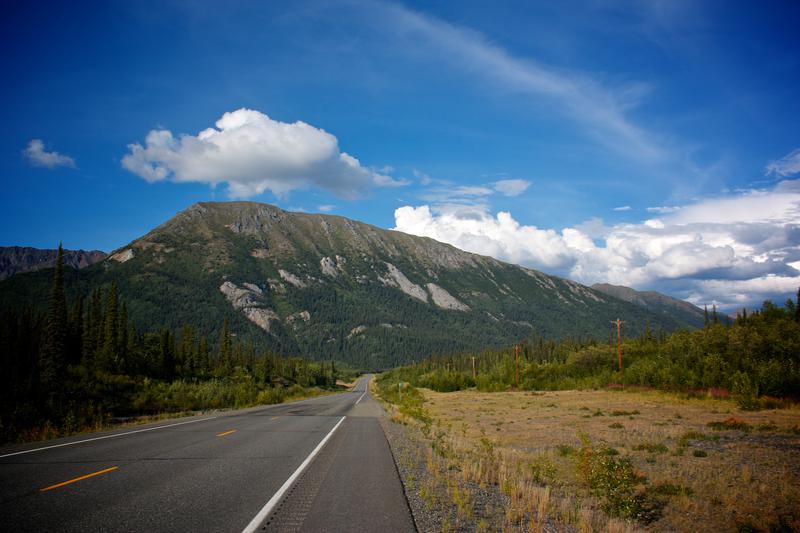 We rode on some more and also managed to get some rolling pictures as well: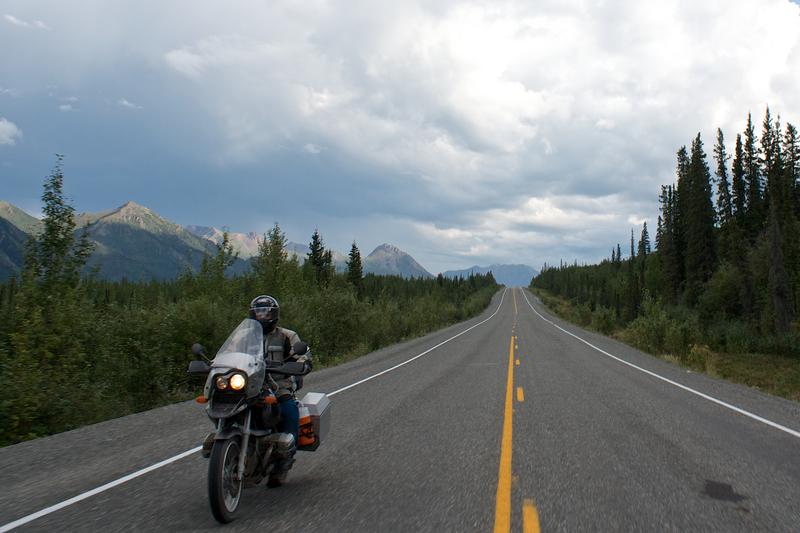 Besides the random gravel patches it was a great cruise up to Tok. We couldn't have asked for a more beautiful day!
Then, when we were about 20 miles away from Tok we noticed some Harleys on the side of the road. Gregg slowed down and asked if they were good using hand signals and in a slight bout of miscommunication he took off thinking everything was ok. (it wasn't)
I pulled up aside them and it turned out the woman had gotten a flat tire (bummer!). The gentleman was asking if we had a pump (and of course we did). I did let him know that my alcohol container had exploded over it so it may seize up but it's worth a shot! By this time, Gregg had come back and figured out that there was something wrong. So he pulled over and we got to work.
By that time, they had already patched the hole in the tire so all we had to do was fill it up. Gregg first attempted the CO2 cartridges that come with our patch kits. The first one shot in ok but the second one didn't fare as well. We decided to go for the pump so we hooked it in to her bike and let the pump do its job.
While we were chatting it turned out that the woman was a director at Harley Davidson and even more interestingly the gentleman was the previous owner of the House of Harley in Anchorage. (The place we had just stayed the night before!) They explained that they and a cohort of riders were heading to the big 110th Anniversary celebration in Milwaukee Wisconsin.
After some continued conversation, we finally got the back tire up to a good pressure. Their friends had just arrived with a can of fix a flat but it appears we had fixed it (at least temporarily). So with that I offered to follow them in to make sure they at least made it to Tok. We hopped on the bikes, let everyone pass us and took up the rear. I did manage to get a rolling picture as we got going.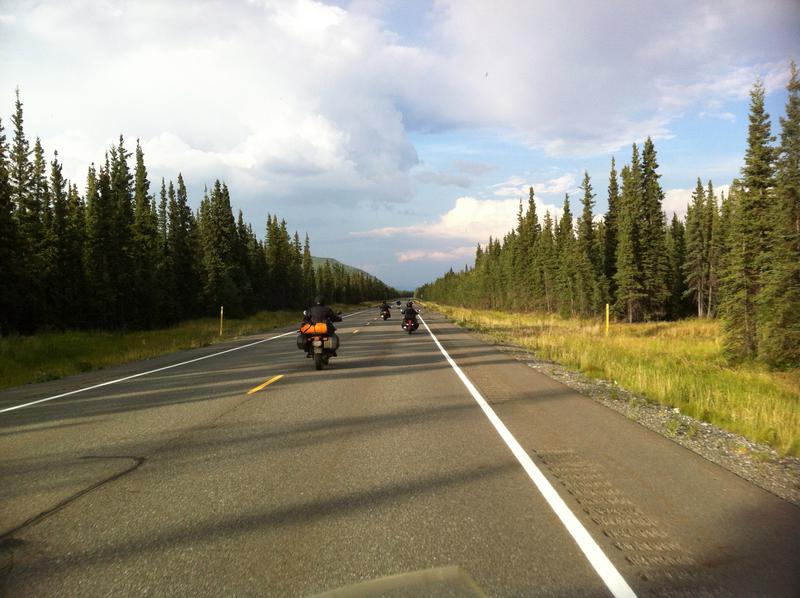 What an awesome feeling to get when you can help somebody in need. I was glowing by that point.
We arrived in town with everyone in one piece. She came over and thanked us again. We chatted a bit more as we filled up our bikes. After a bit more conversation it appeared that her tire wasn't going to make it to Milwaukee. She would have to get her bike towed to Fairbanks to have a new one put on. (agg) We said our goodbyes and wished them good luck on the rest of their journey. I hope they made it!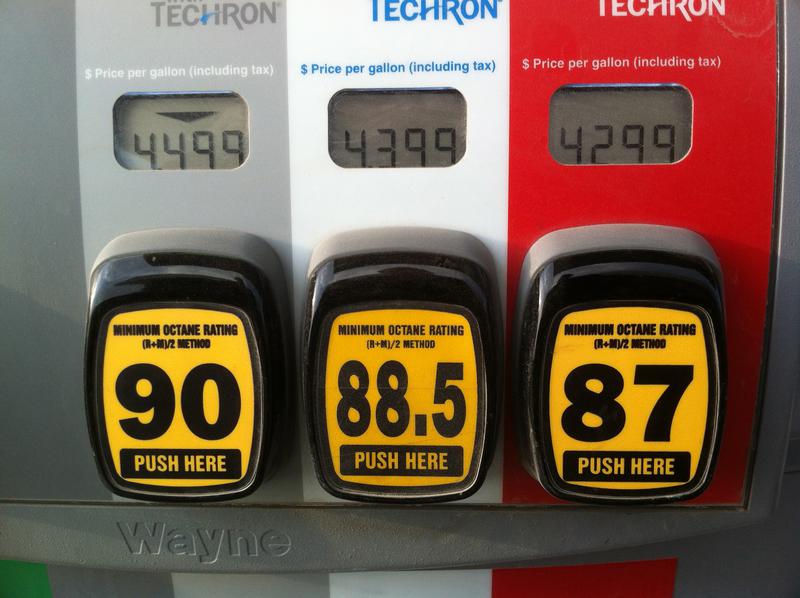 Tip: I took a picture of the gas pump up in Tok. This is an example of what's offered up there. In most places we were able to get 90 octane (and the bikes ran pretty well on it).
We headed next door to Three Bears Grocery and bought ingredients for Sloppy Joes. We were going all out this night. We made another stop at the liquor store down the street and then we headed to the campgrounds.
Once we arrived I attacked the food while Gregg started setting up camp. I even got a picture of him in action sporting our beloved head net.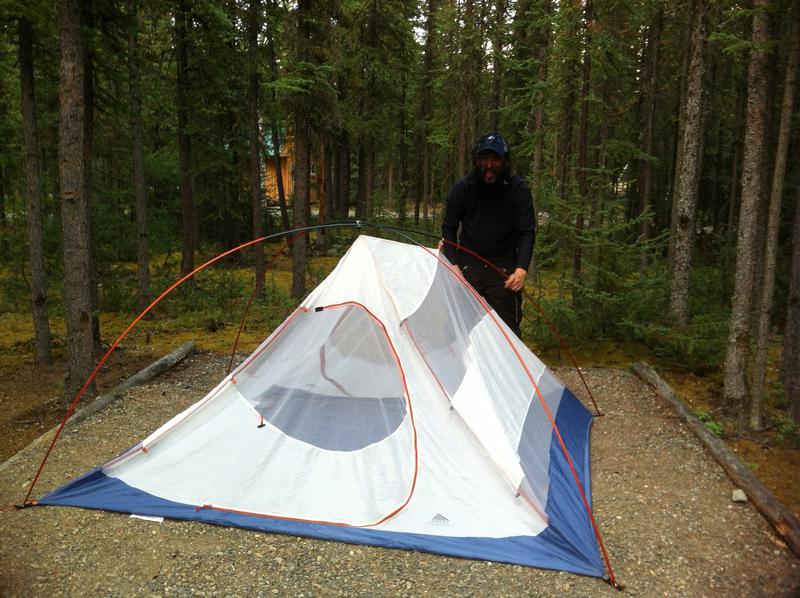 Vanessa has an awesome set up for cooking and cleaning. They even provide a propane stove, cookware, and tableware to use (and wash afterwards obviously).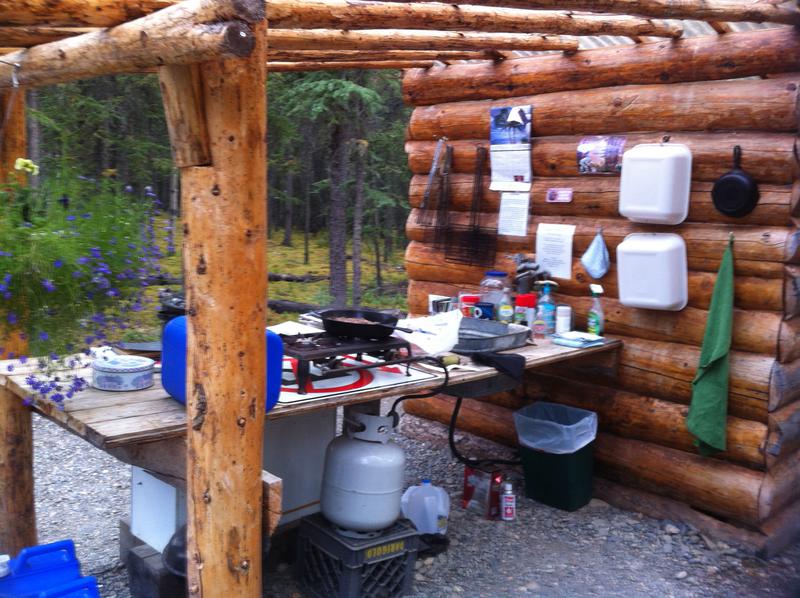 After some finishing touches it was time to eat!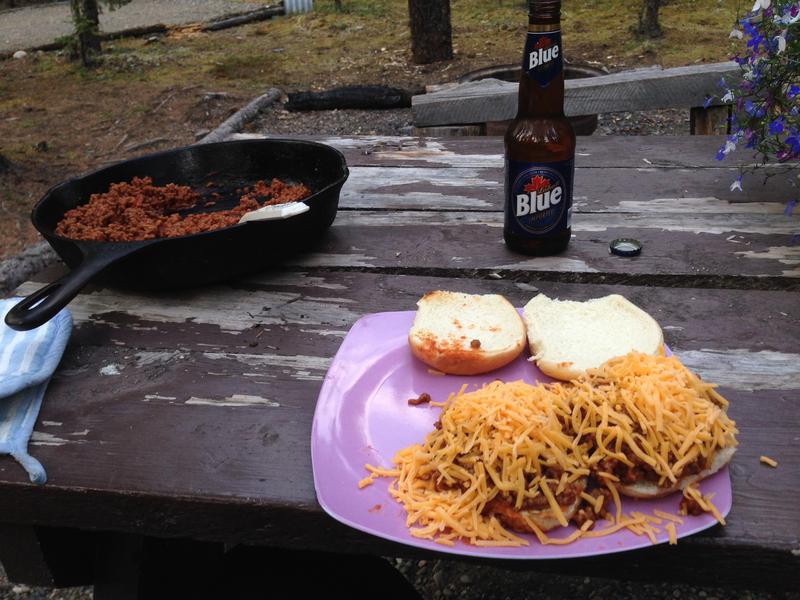 And it turned out pretty good! There is nothing like a good sloppy joe on the road. After a rejuvenating dinner we settled in and mentally prepared for our last leg in Alaska. It was time for Haines.
The Gear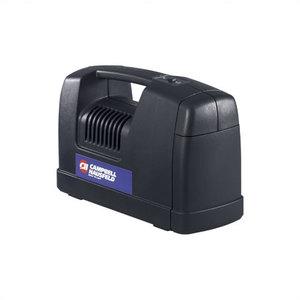 Gregg was inspired by the article written by Rick K. over at WebBikeWorld. So he went out and bought the tire pump and removed it from the plastics. The only thing required after you have removed the pump is to solder the wires back to the pump.
This is a simple and cheap solution compared to some of the other options around. We have tested it on multiple rides and has always performed well. (It didn't even seize after being soaked in denatured alcohol)
Note 5/1: I ended up purchasing one of these again on my more recent trip. It actually saved my butt when I found a huge nail in my tires when about 1.5 hours away from home. The one I purchased is on Amazon here.