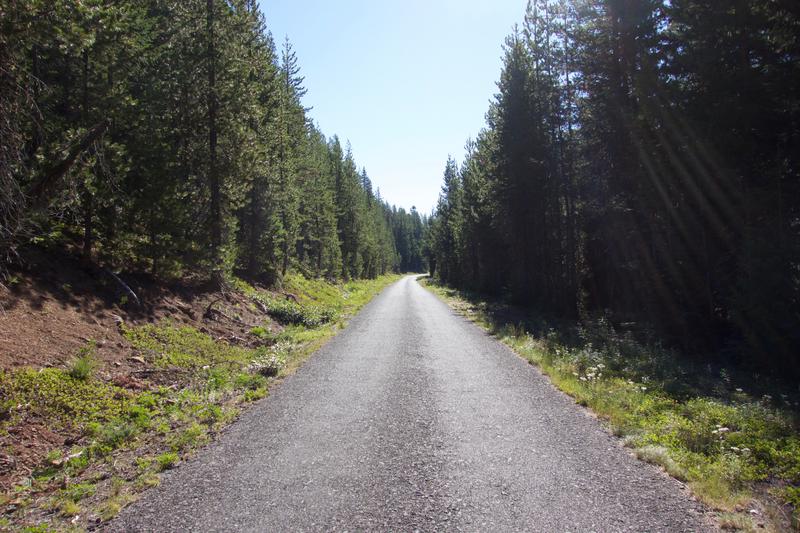 One thing that I enjoy seeking out in the northwest is the paved mountain roads that zig and zag up and down the mountainous region. They're welcoming and just have enough space to enjoy cruising. Once you're on one of these roads it's just you and nature. No worries about losing tracking. No worries about getting some foreign object stuck in your tire. The focus is 100% on the ride and it's up to the rider on how fast or slow they want to go.
In my case, slow and steady. For some reason i've spent a bunch of time with guys who want to go fast. Get to wherever they're going fast. Tear up those twisties fast. I've never really felt that compelled to do that and knowing myself the faster I go the more likely I am to break myself or something else!
My direction for the day was around Mt. Hood and then up across the Columbia river towards Mt. St. Helens. Shorter day but it allowed me a bit more time to enjoy the sights and maybe take a few pictures. I did take a fuel stop early OR-26. It was also the first time since the day before where I had signal. I then spent 30 minutes downloading some extra maps and campground .gpx files to my phone. Let me say that those things have changed how I ride immensely. The links are below:
Galileo - I pre-download the vector maps to this program on my iPhone (also available for Android). That way, with or without signal I can see where I am and navigate out of a mess if I have to. I can import and export .gpx files which is super handy for exporting my routes or importing someone else's. I used this feature to import the uscampgrounds.info .gpx waypoints.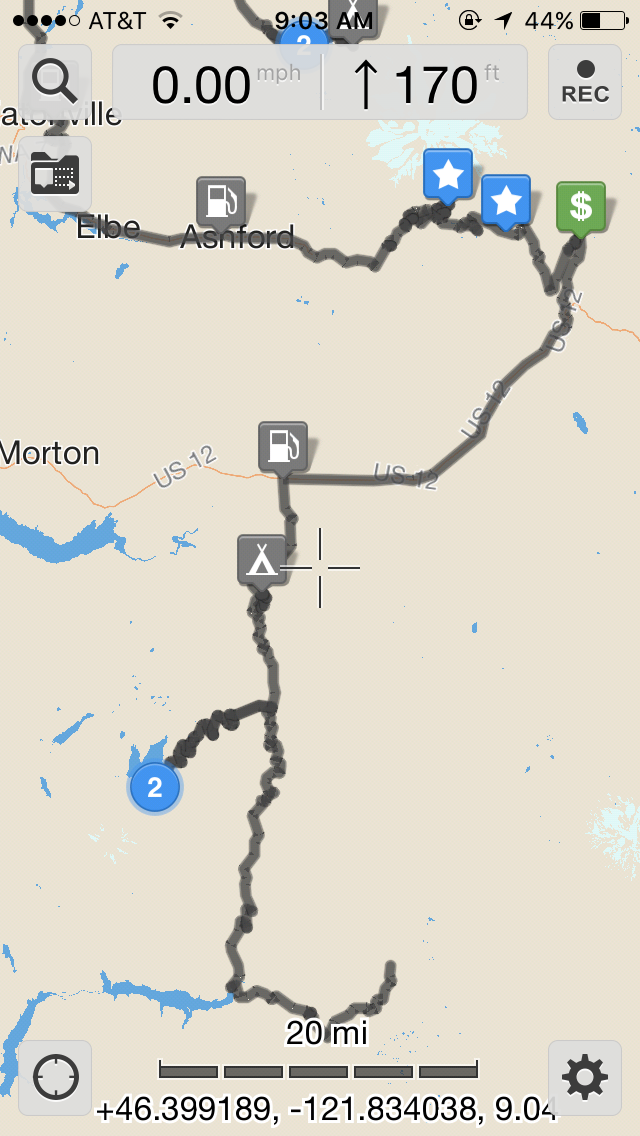 Uscampgrounds.info - These guys(and/or gals) have done a superb job collecting all the federal and state campgrounds and compiling them into several .gpx files that are split up by region. There is no more guessing for me where campgrounds may be it's all right there on my map! As mentioned above, this works whether or not I have signal.
Note: I have no association with either of these items. I just wanted to point out how cool and useful they have been for me.
About 10 minutes after my pit stop, I was upon Mt. Hood. Picture time!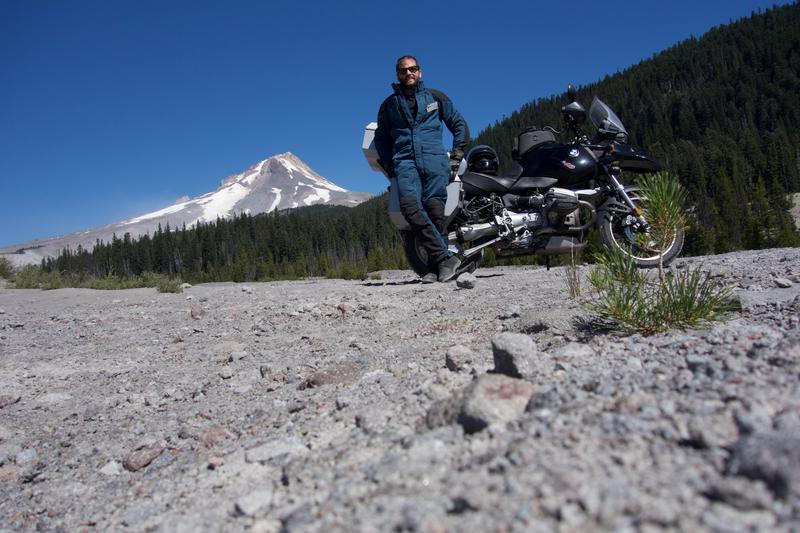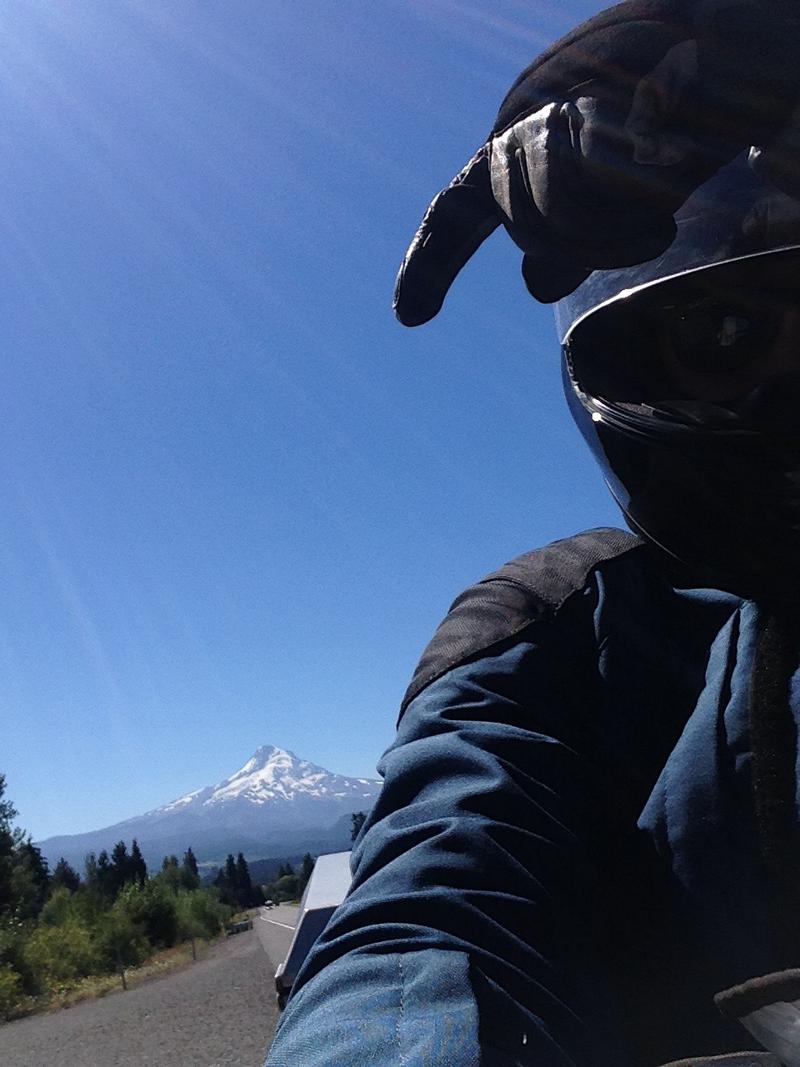 My goal was to avoid any major roads and get closer to Mt. St. Helens and Mt. Rainier. And boy, did I accomplish that. I headed up OR-141 and took a pit stop at one of the many fruit stands. They had a gret selection and even un-pasturized apple cider. (yeeeeeeeeeesssss)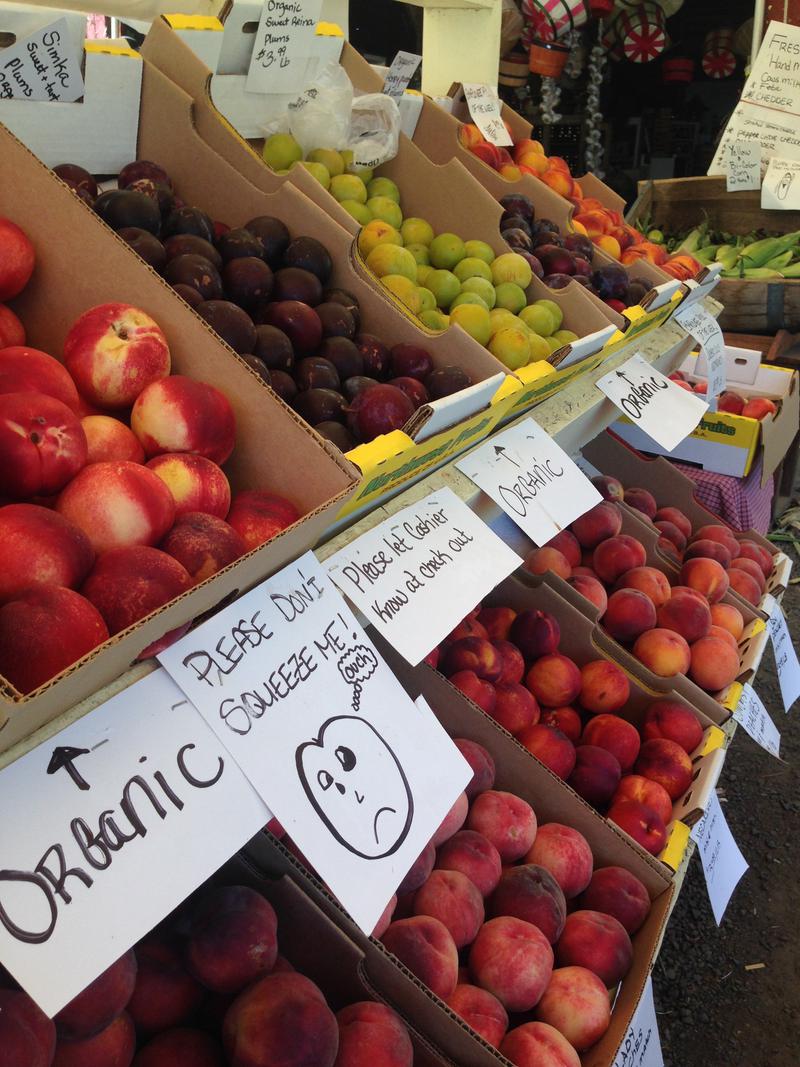 I even had a chance to check out their back yard and enjoy my cider. Who wouldn't want this as their backyard?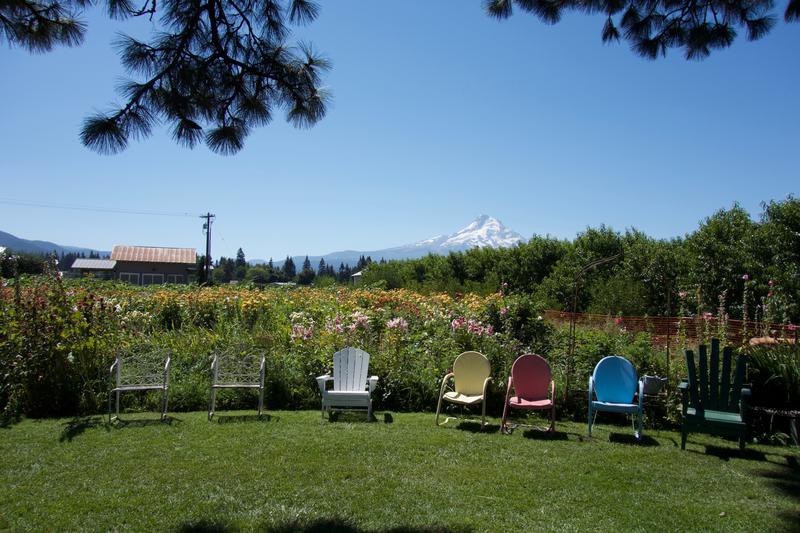 I was still hungry after this stop so I decided to stop in town just north of where I was. It was a great opportunity to grab everything I needed, tax free, before I headed into Washington!
After my pit stop in Hood River, I headed across the Columbia and kept my sights on the end of WA-141. There isn't much to write about WA-141. I remember thinking that it wasn't that great of a road for motorcyclists but it's a great road for getting to where I wanted to get to. (Which was the Gifford Pinchot National Forest!)
One thing I did remember was seeing Mt. Adams looming off to the east of me. It seemed almost as big as Mt. Hood. Very tempting to go and visit. 😈
Fortunately or unfortunately, after my exit from WA-141 I found myself in a maze of forestry service roads. At one point, I was dumped out onto freshly processed gravel and after 30 minutes of that I was about ready to call it quits. Luckily I found some pavement after being set off course (who ever said roads went directly where you want to go?!).
For every mistake, theres always a discovery! And boy some of these roads were quite beautiful and I was the only one around for miles. Aventure rider's bliss. I ended up finding the entrypoint to 2575 Rd (Forestry Service Road) which was 100% worth it. I remember riding though groves of birch trees and then swinging back into groves of evergreens. I was immersed with my surroundings noticing every little change along the way.
Eventually, I came upon the access road for Mt. St. Helens. I wasn't really planning on checking it out as it was getting darker but I decided "What the hey! This is what all of this is about!". I took that left turn and barreled down the road unsure how long the 16 miles would take me. I did not want to ride in the dark. That's no bueno.
I carved around the hills noticing more and more dead trees looming around me. Wildfire? But they didn't look burnt up.. The road dipped in certain areas. You could tell that due to the fact it was so close to the edge that the road was eroding and falling into the valley below. Probably not very fun for people driving their mega rv's down that road. Perfect for motorcycles though!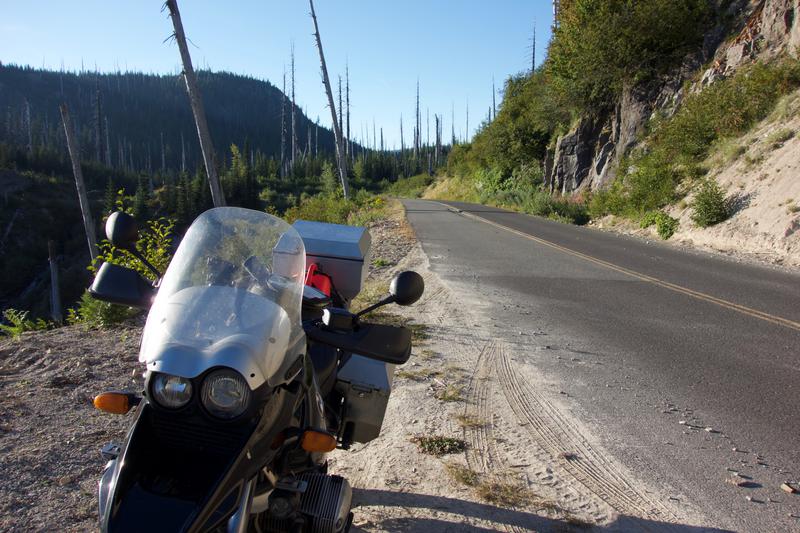 Here are some pictures I took at the closest point to Mt. St. Helens: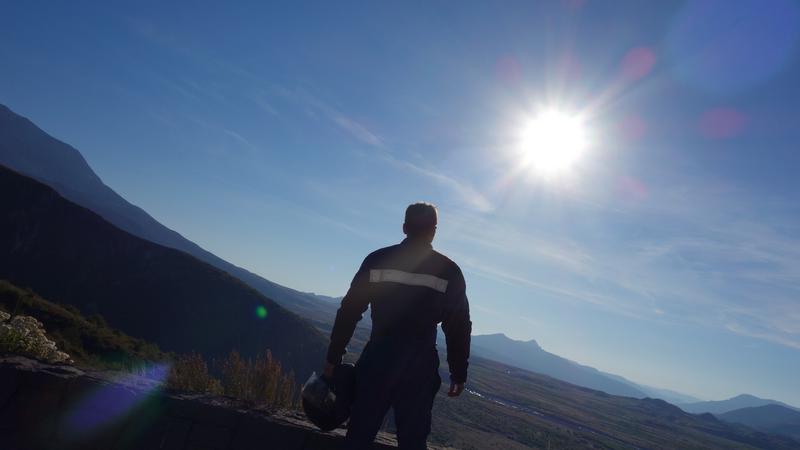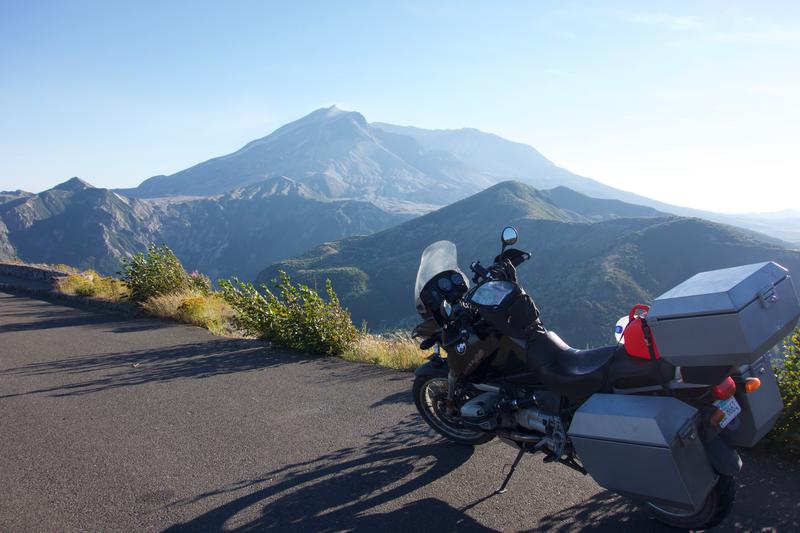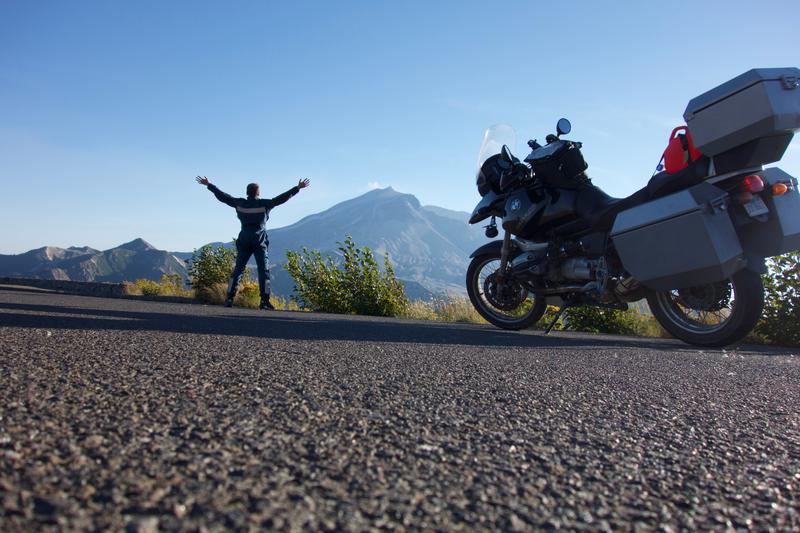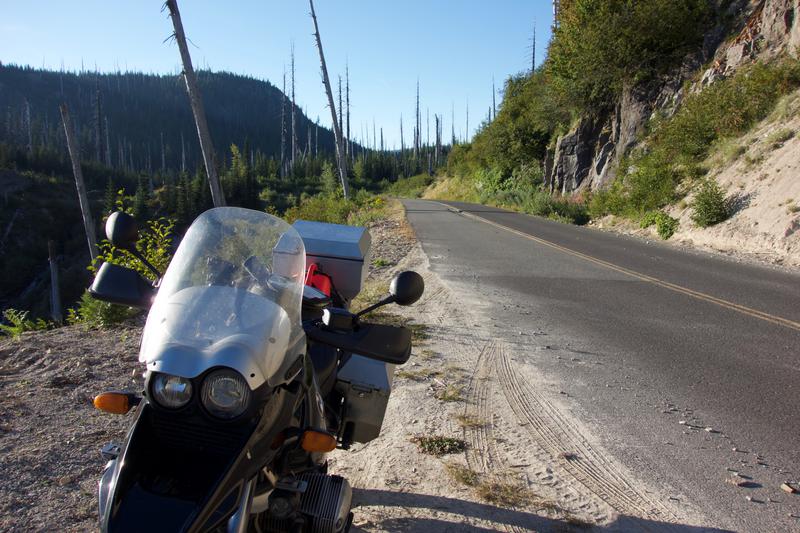 I closed out the day by riding back and up along the forest service road I started on. I had met some guys on dirtbikes who seemed way lost. They must had been tired because I stopped 2 or 3 times and caught up with them every single time. Stopping, finally near my resting point for the night, they asked me where was the best place to get a red bull. I told them probably somewhere along WA-12 which was probably another 20-30 minutes of riding. Yikes.
I found my spot for the night as they chugged down the road. Not sure why they just didn't call it for the night. A rested (and warm) rider is a happy rider. ;)
Resources
Read Jared W.'s review of Draper Girls' Country Farm on Yelp
Read Jared W.'s review of River Daze Cafe on Yelp