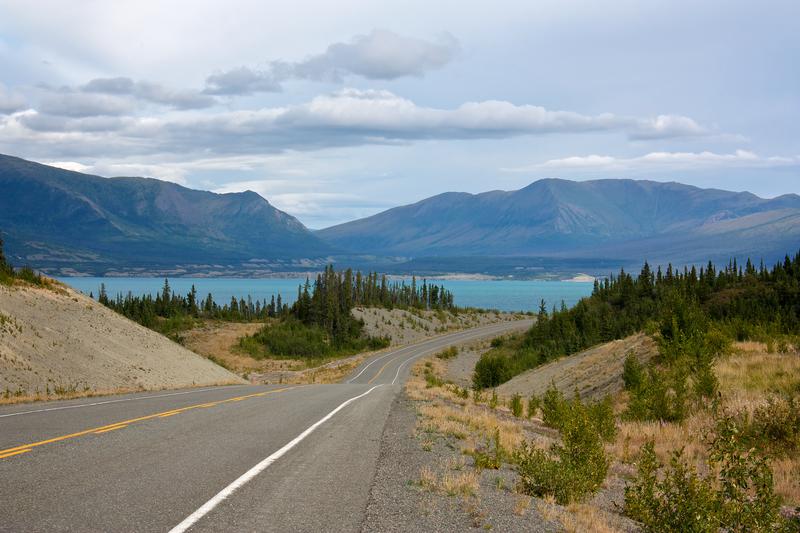 Our ride from Tok to Haines was horrible and beautiful at the same time. I guess it was too much to ask for perfect weather the whole three weeks. Nevertheless we trucked on. To Haines!
Daily report: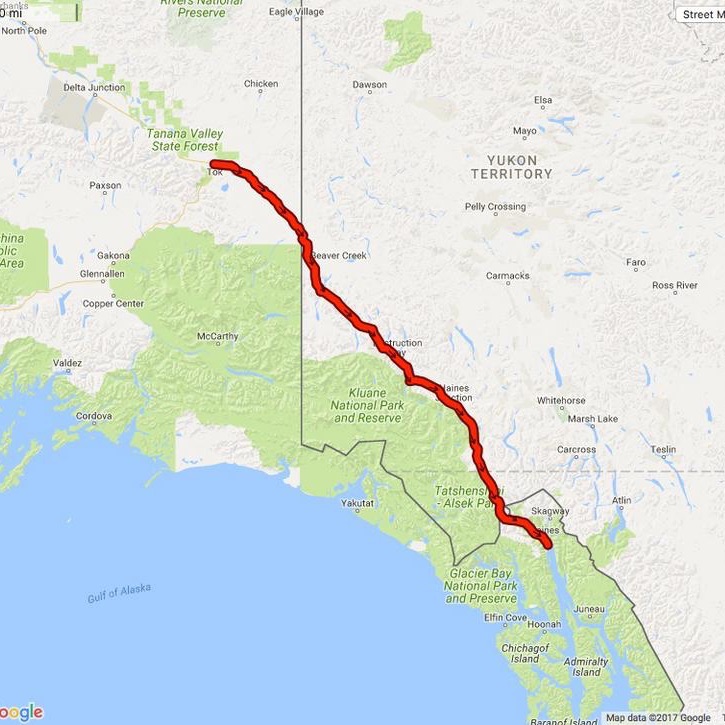 Tip: when you have a long day of riding ahead get up when the sun does. (We already knew this but for some reason we didn't think of it.)
We got up rather late and proceeded to clean up our mess. I walked around the campground to get some picture proof we were there. (But also to show off this awesome campground.)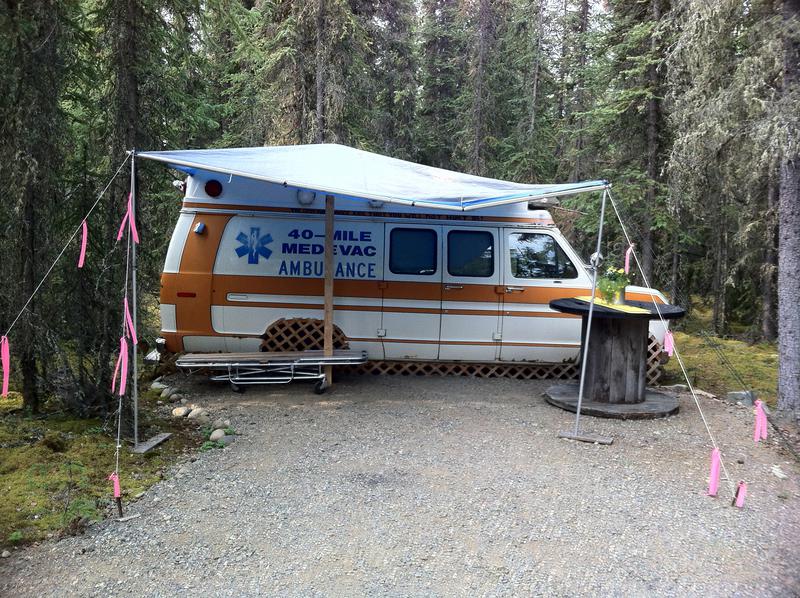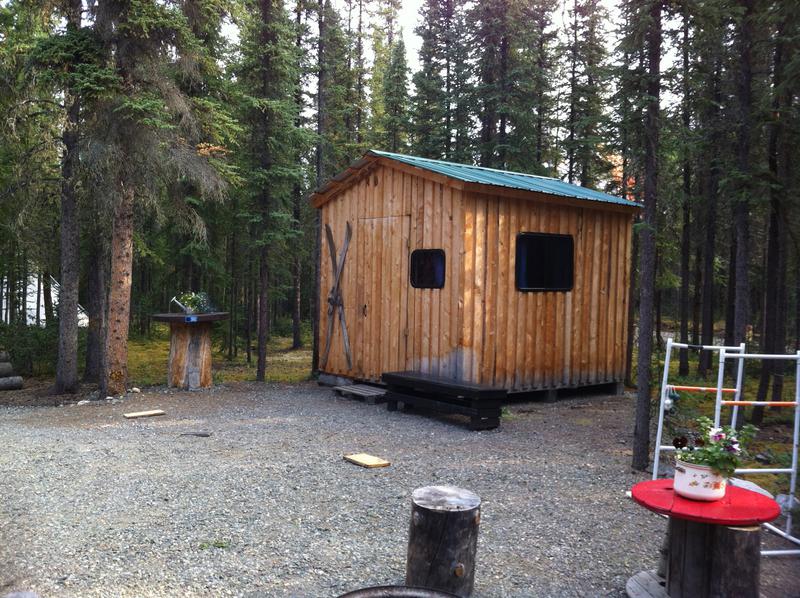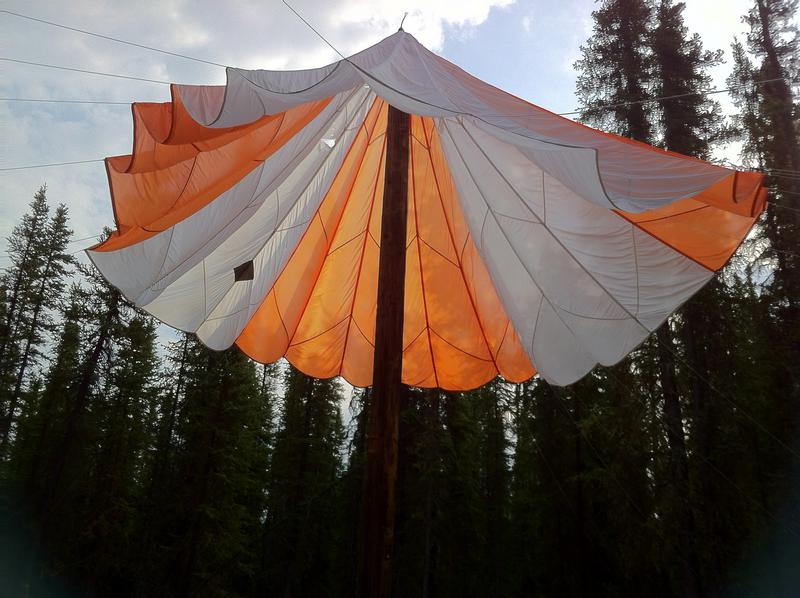 As you can see this is a unique place. If you stay the night you won't be disappointed.
We were on our way by 13:00 PST (aghhh). I almost suggested waiting another day there considering we still had some leeway before the ferry left. (Too late oh well.)
We left Tok in a rush. The roads turned rough but still paved to the border. The pavement was composed of a mishmash of different materials supposedly deposited over the years. It looked as if someone decided that the best color would be alternating between grey and brown.
It was slower going past that point especially because we couldn't tell if the chip seal was chip seal or gravel waiting to make our day horrible. Fortunately we didn't run into many patches of gravel between Tok and the border.
In addition to the unique pavement, we had our first real run in with rain. At first it started off soft but soon enough we knew that we would have to stop and throw on our Triple Digits. After passing a bicyclist gearing up we decided to do the same.
We made it to the border and passed through without a problem. What a crummy send off. Thanks, Alaska.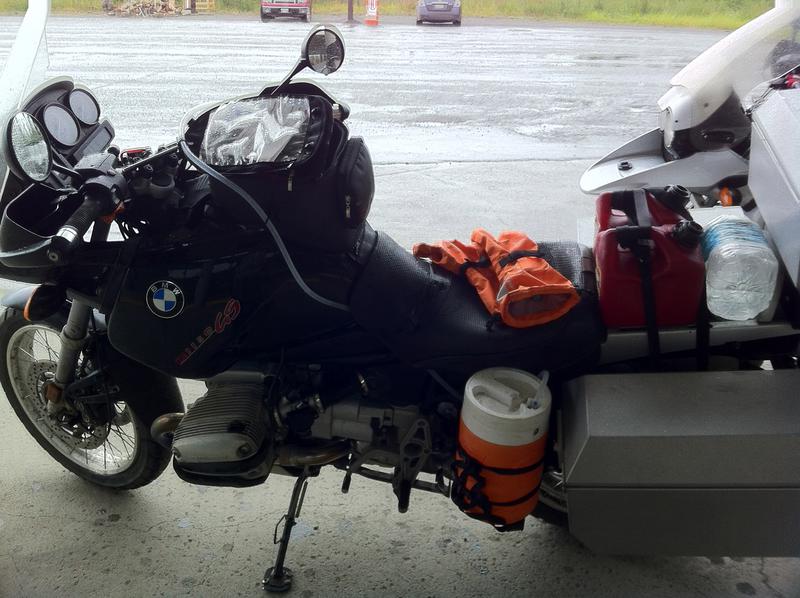 I took a quick picture of the bikes. Gregg was more wet than I was. It turns out his Kilimanjaro Jacket lost its waterproofing a long time ago.
We got rolling again only to be greeted by our old friend gravel (and lots of it). We rode through about 10-15 miles of loose slippery aggregate in the rain. Needless to say it was a fun time.
We finally broke free from the gravel and continued trucking southeast on the ALCAN. We passed by some little towns (of which we probably should have stopped for gas) and kept our eye on the prize.
It still was raining and cold at this point. I had all my layers in, my sweatshirt on underneath my jacket and my handlebar warmers set to kill. Gregg was very much in the same situation. Turned out he had his heated gear set to roast and was still cold. Fun times.
We rolled past an older gas station and pulled over. We were nearing the point of no return on our fuel range so we decided to turn around and fill up. The owner and her dog made her way out to the pumps and we started chatting. It sounded like they were having a good year and hopefully we made it even a little better.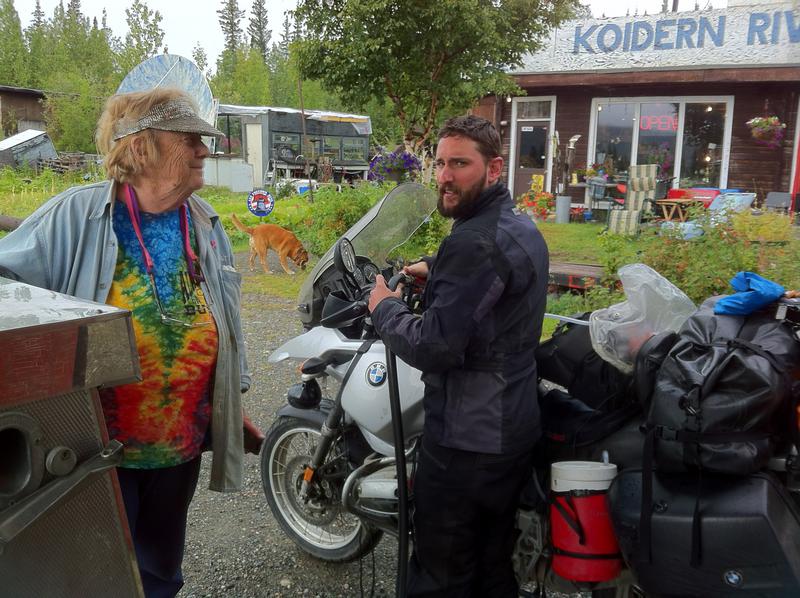 Don't be so angry bro.
We gave the lady some cash and geared back up. The rain had stopped at this point but I kept my triple digits on.
As we rode we started approaching some really beautiful scenery. We stopped for pictures a couple times (including the picture at the beginning of the post.) Glaciers were everywhere around us. I was awestruck at how blue the water looked from afar. It made up for all the undesirable riding we had just experienced a couple hours before.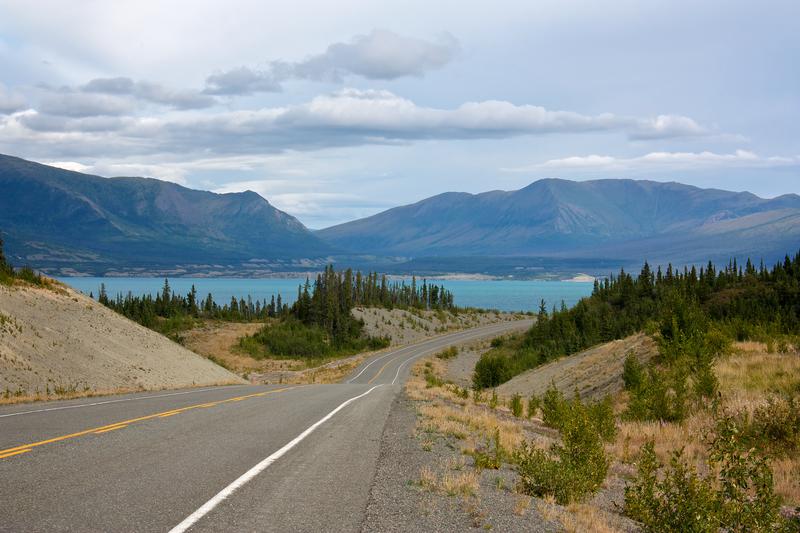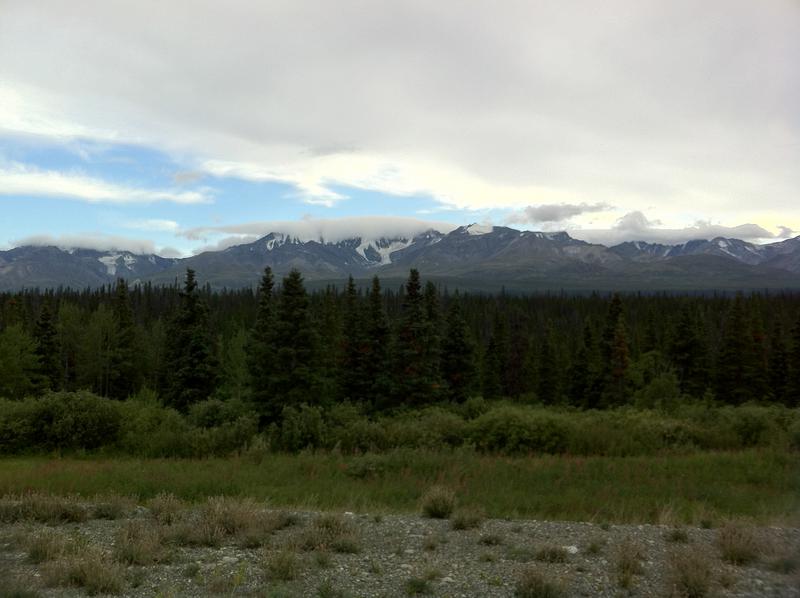 The road was in better shape during this portion of the ride. Although, there were many more bumps in the road caused by frost heaving. This was a new concept for us but it didn't cause too many issues.
As we rode and hit the bumps I could feel the rear tire rubbing (ut oh). It was during this time that I saw that my orange dry bag was hanging off of the back of Gregg's bike. (!!!) We pulled over to inspect the damage. Gregg was quite lucky that it didn't get caught in the wheel or else we would have had a really bad day. Luckily for the tent inside (and us), the bag took most of the damage. The only other damage was to the tent's compression sack and a slight hole in the tent's rain fly.
Once we finished that investigation, I also looked into why my back tire seemed to be rubbing while going over those bumps. It had turned out that the frame was off enough (from my day in Kennicott) for the tire to rub on the inner wheel well. Gah. I pumped up the preload on the back shock and readjusted the black cylinder on the right side enough so it was out of the way. Perfecto!
After battling the frost heaved highway we finally made it into Haines Junction around 19:09. We fueled up at the gas station on the left and then hit up the Northern Lights Restaurant across the way.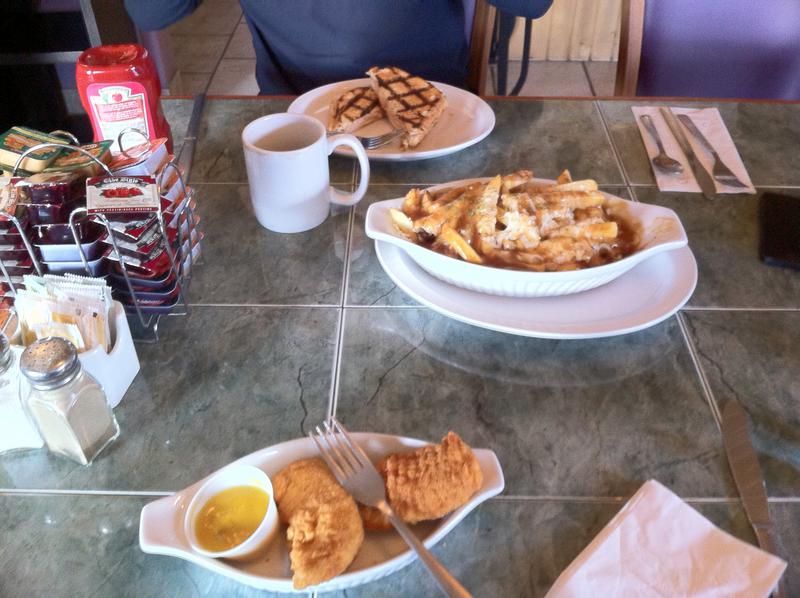 In the restaurant, we had a beautiful view of the mountains around us and a half way decent meal in front of us. The meal turned out to be a bit more expensive than we had hoped but there wasn't much bargaining to be had since this seemed to be the only restaurant within miles.
After dinner we moseyed out to the bikes. We still had a bit (170 miles worth) to go and the sun was playing peek-a-boo behind the clouds. We got back on the bikes and aimed them south. Haines or bust.
We rode through the rolling hills noticing the beauty that surrounded us. We also realized that we were to see the sun no more. It kept getting darker, colder, and, to top it all off, foggier as we got closer to Haines. We had to slow down when all we wanted to do was speed things up. We rode through some dense patches of pea soup fog at some points slowing to a crawl. We were almost there but Mother Nature kept warding us off.
Finally we arrived at the border crossing. As we motorcycled past the Canadian portion the border officer came out and waved. We headed down the road and stopped at our final border crossing! After a few questions like "Do you have any weapons?" we were on the other side.
We followed the twisty road into town attempting to navigate in the dark and cold. We hit the middle of town around 23:00 and proceeded to spend the next 30 minutes attempting to find a suitable camping spot. After some confusion and deliberation we rode down Mud Bay Road to the Chilkat State Park where we hastily pulled in and attempted to find a good spot. (It had started raining again). We erected camp in the dark and the rain.
As the rain fell around us we reflected on the day. We knew, that from this moment on, we were in relaxation mode. There was nowhere to be but Haines for the next 48 hours. It was time to look forward to our next days of the journey.
The Gear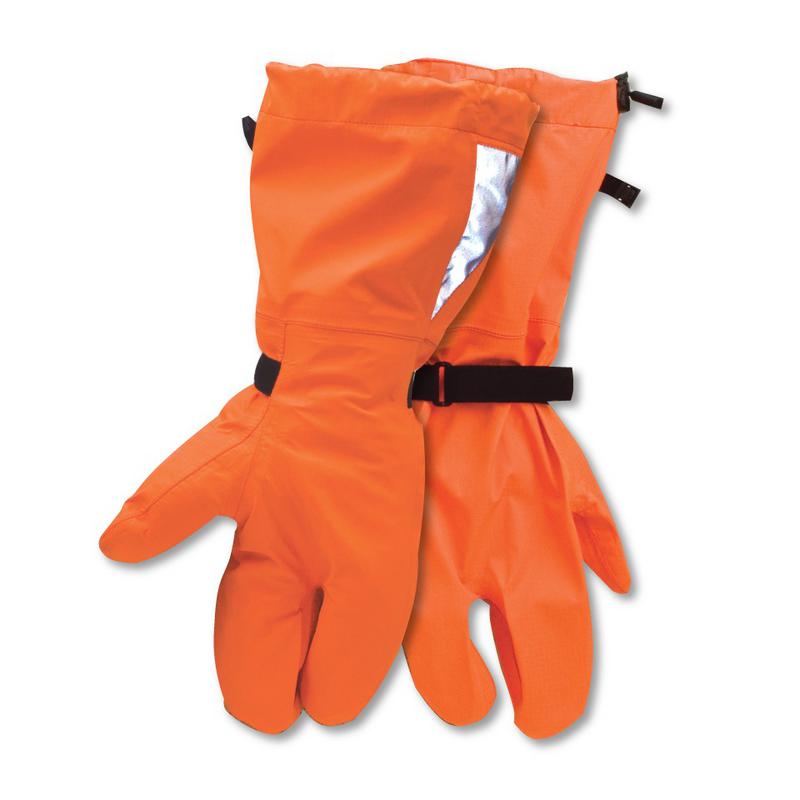 The gear choice for today is the Aerostich Triple Digit Covers. We used these bad boys whenever things got a bit too wet for our leather gloves. They kept a modest amount of rain away from our hands. I have heard of people having some issues with them but after going through what we did to get to Haines we knew we made a good purchase.